Pentagon's Commercial Cloud Will Be a Single Award—And Industry Isn't Happy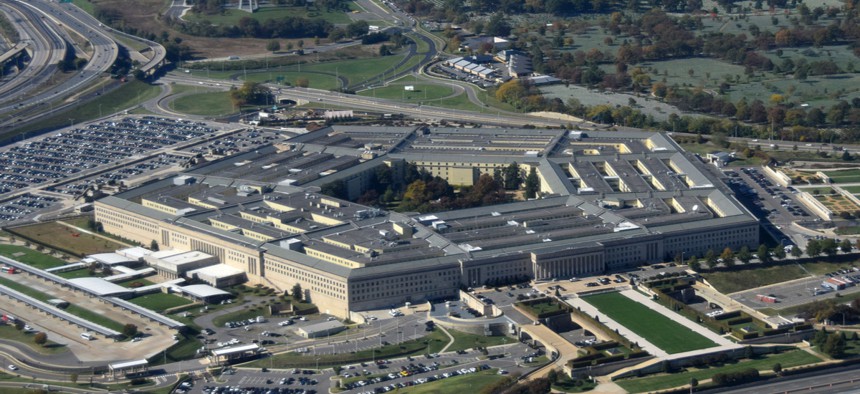 The Defense Department plans to issue a single award for a commercial cloud computing contract that some analysts believe could be worth as much as $10 billion over the next 10 years.
Pentagon officials released a draft request for proposal Wednesday that coincided with an industry day regarding the Joint Enterprise Defense Infrastructure cloud procurement, an effort that began in September.
Companies have until March 21 to submit feedback as they position themselves to compete on what is assuredly an aggressive acquisition timeline. Pentagon officials said they plan to post the final solicitation in May before awarding a single indefinite-delivery, indefinite-quantity contract in September.
"We are viewing this as rare opportunity to shape our acquisition system to meet the demands of 21st century," Ellen Lord, the Defense Department's undersecretary of acquisition and sustainment said Wednesday. "The JEDI cloud is a prime example of the kind of technology driving change we in the Defense Department need to embrace. If we leverage commercial cloud, we'll have the foundational technology in place to deliver better software to our warfighters faster at lower cost and with better security."
The procurement includes infrastructure-as-a-service and platform-as-a-service offerings at the unclassified and classified levels, though classified services will be housed in a "dedicated physical infrastructure." Those services would be available to all entities within the Defense Department and military, and would include computing, networking, storage and other basic services.
However, Brig. Gen. David Krumm, deputy director for requirements for the Joint Chiefs of Staff, categorized the JEDI Cloud procurement as "much more than an IT system." He said the end product would be a "global fabric" available to warfighters in almost any environment, from the cockpit of an F-35 to a Pacific submarine or Army platoon in the most remote environments.
"Whichever one of you wins this, I'm challenging you to bring your 'A' game," Krumm said. "This is going to make a difference like few things have to get information to our warfighters."
The notion of a single award contract irked some in the defense industry who—based on the Pentagon's evolving strategy—had assumed a multi-award cloud contract was in order. In a statement, Microsoft said it was "disappointed" the Defense Department was pursuing a single cloud option.
"We believe the best approach is one that leverages the innovations of multiple cloud service providers," the company said in a statement. IBM, too, took issue with the single award approach.
"The Pentagon would never limit the Air Force to flying only cargo planes for every mission. Locking the entire U.S. military into a single, restrictive cloud environment would be equally flawed," said Sam Gordy, IBM Federal's general manager.
CSRA, which operates one of the most important Defense Department cloud programs, expressed optimism, but also questioned the single-award approach.
"We do like the fact that they're doing an open competition, that is a positive sign," said Donald Robinson, chief technology officer for CSRA's defense business. CSRA's milCloud 2.0, valued at $500 million, went live last month, bringing a suite of on-premise private cloud capabilities to the department.
"But with a single award, it does seem that it may limit their options over the next decade," Robinson said.
That critique has been echoed by leaders of many well-known contractors in recent months, many of whom fear the procurement is geared toward Amazon Web Services, the market leader in cloud computing. Wednesday's industry day did little to quell those fears.
It is unclear how the JEDI cloud would impact the department's existing cloud vehicles, such as milCloud 2.0. The department has more than 500 ongoing cloud initiatives, Defense's acting Chief Information Officer Essye Miller said. She said milCloud 2.0 and the JEDI cloud would be "complementary" but didn't address the other vehicles.
One industry official told Nextgov the Defense Department could relegate them to unimportance by "officially or unofficially" mandating Defense agencies use the JEDI cloud when it goes online sometime in 2019.
AWS, which won the CIA's 10-year, single-award cloud procurement four years ago, is considered to be a frontrunner for the JEDI cloud award. In a statement to Nextgov, the company applauded the Pentagon's open and competitive bidding process and said commercial cloud "will drive innovation which spurs the best solutions" for warfighters.
"As we have always said, an open and competitive bidding process allows for the customer to thoroughly analyze the various providers and select the solutions that best meet their needs. If selected, AWS, along with our partner community, stands ready to support and serve what's most important—the Defense Department's mission of protecting the security of our country," an AWS spokeswoman said.