DOD Issued a $7 Million Cloud Support Contract To a Company With One Employee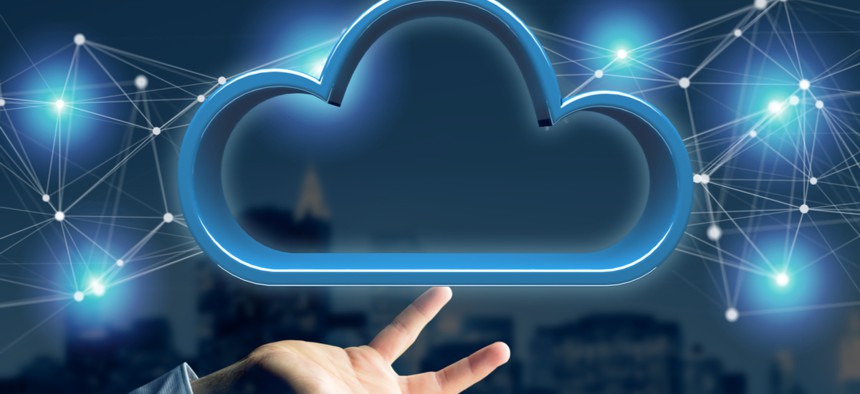 The Defense Department awarded a sole-source contract to Eagle Harbor Solutions, an Alaska-based small business with a single employee, to consult in its major cloud acquisition.
A two-year-old company with one employee and little past performance will play a supporting role in one of the Defense Department's most important tech acquisitions of the year.
In late January, the Defense Department awarded a $7 million sole-source contract to Eagle Harbor Solutions LLC, an Alaska Native-owned 8(a) small disadvantaged business, to support the Pentagon's enterprise cloud initiative. For months, the Defense Department has been laying the groundwork to bid out a contract for enterprisewide cloud computing services that could be worth billions.
Yet the decision to hire a consultancy to provide support services in the Pentagon's execution of its Joint Enterprise Defense Infrastructure (JEDI) cloud initiative is less surprising than who it was awarded to.
According to a Jan. 18 contract in the Federal Procurement Data System, Eagle Harbor Solutions was incorporated in Anchorage, Alaska, has one employee and an annual revenue of $91,005. The federal contracting database and USAspending.gov indicate Eagle Harbor Solutions has received two other recently awarded contracts, one of which was to an Interior Department office for cloud migration services, for a total of $1.8 million.
In a press release, the company—created in November 2016 with an office in Chantilly, Virginia—said it will provide the Defense Department "a full range of infrastructure engineering, software engineering, acquisition, strategic communications, business operations, cost estimation, and budgetary expertise."
"We are honored to provide this critical support for laying the foundation to accelerate enterprise cloud adoption as directed by the Deputy Secretary of Defense," said Eagle Harbor Solutions President Todd Morgan, in the release.
When reached by Nextgov, Morgan said he was "unable to provide any information beyond what was published in the press release." Morgan did not answer questions regarding whether he was the company's only employee or whether recent job postings were related to the Defense Department contract.
Eagle Harbor Solutions is part of Koniag Government Services, which is part of a larger company, Koniag Inc. The government group includes nine companies with a combined 2017 revenue of approximately $92 million from about 200 transactions, according to USAspending.gov. In addition to Eagle Harbor Solutions, four other companies in Koniag Government Services are listed in the Federal Procurement Data System as having one employee in 2017, and one company—called Kadiak—listed an annual revenue of $1.
The Defense Department, which was not quoted in the Eagle Harbor press release, told Nextgov the contract with the company "is for program office support services only, and does not include serving as an IT systems integrator."
"Eagle Harbor Solutions is serving in a support capacity only by providing a small team of highly skilled individuals," said Cmdr. Patrick Evans, a Pentagon spokesman. Evans said the Eagle Harbor Solutions contract excludes it from competing on the final cloud contract.
The Defense Department's award synopsis, dated Jan. 18, only describes the contract as providing support services for the Cloud Executive Steering Committee.
As Eagle Harbor Solutions notes on its website, federal contracting offices can award sole-source contracts to "Alaska Native-owned 8(a) companies for a value of up to $22 million without the need for a justification and approval." Sole-source justifications are common, especially in the Defense Department, and are used to publicly explain why an agency did not engage in a full and open competition.  
Contracting experts told Nextgov the Defense Department's use of an ANC 8(a) company essentially sacrifices transparency for speed. Instead of hosting a full and open competition for a contractor to provide support services on the cloud contract, which could take months or more, the Defense Department can issue the contract with no competition in hopes of moving faster.
"Even though the process of awarding this looks strange and curious, it does look like speed is the real reason," said Alex Rossino, senior principal research analyst at  Deltek, which conducts federal market research. "It is weird. Ideally, you'd want someone with a demonstrated track record. The question is: What's the impact going to be moving forward?"
The Government Accountability Office has periodically audited the government's use of ANCs, including problems with oversight and lax justifications. In 2014, 344 ANC-owned firms generated $4 billion in revenue from federal agencies, according to GAO.
'Evolving' Cloud Strategy
Industry has kept a watchful eye on the Defense Department's acceleration toward cloud adoption, which seemingly began with a summer visit by the top brass to West Coast tech hubs.
At first, industry groups like the Professional Services Council and the Information Technology Alliance expressed concern over a procurement aimed at selecting one cloud service provider rather than many. A January memo from Deputy Defense Secretary Patrick Shanahan restructured the cloud executive steering group leading the cloud acquisition, and the Pentagon sent signals that it was considering awarding multiple contracts.
Whichever route the Defense Department takes, Evans told Nextgov "the department intends to conduct the JEDI cloud acquisition through a full and open competition."
The Defense Department's lack of transparency in the acquisition process, however, has industry again wondering what the agency is up to.
"This turn of events appears to be moving [the Defense Department] back into the direction that this was going in previously," said Trey Hodgkins, senior vice president at the Information Technology Alliance for Public Sector. "We hope the Defense Department will look to address concerns that have been raised by industry and now Congress about how this is advancing and make sure the process is an open and transparent as possible."
The Defense Department is expected to host an industry day in the coming months.
Update: On Feb. 8, an Eagle Harbor Solutions representative told Nextgov the company has a staff of five, and that its corporate structure allows it to share certain staff with sister companies of Koniag Inc. 
Editor's Note: A bid protest has been filed against this contract award. Follow this link to read Nextgov's latest story.
Heather Kuldell contributed to this article.