Navy looks to break ground with collaborative IT contracts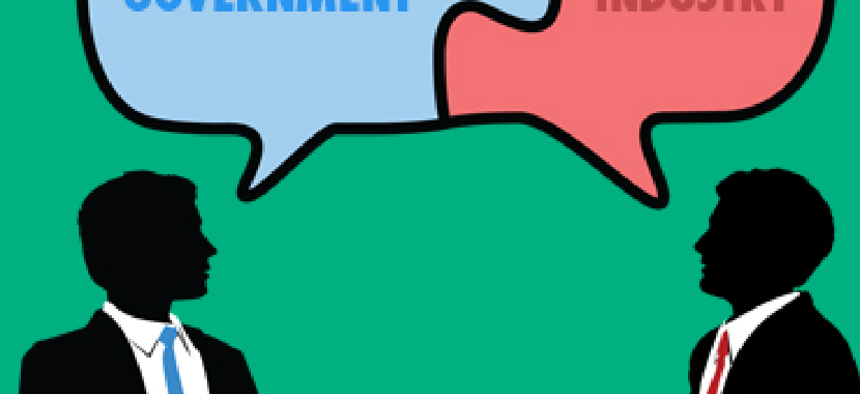 By getting ongoing industry input on contracts from industry, the Navy is expecting to save time. Will it work?
The Navy is trying something new when it comes to its IT acquisition and service contracts – collaborating with industry before anyone signs on the dotted line. That has caused award schedule delays, but the Program Executive Office for Enterprise Information Services says it will be worth it.
"This is a big step for us here," said Capt. Donald Harder, deputy Program Executive Officer for Enterprise Information Systems in a meeting with reporters Tuesday. "It's a different way of breaking apart some of the service components as they exist today into a way that's more conducive to the way industry does business" so the Navy can "get the services we need in a way that industry provides it." 
The department announced Sept. 20 that it was delaying award of its Next Generation Enterprise Network Re-compete contracts -- originally planned for June 2018 -- so it could push forward with a new "sprint" contracting process that allows companies to review chunks of the contract as drafts are completed to create a continuous feedback loop.
The new process includes hosting conference calls every Friday and, in the last week, conducting 28 one-on-one Q&A sessions with companies to answer questions and concerns about the draft contract pieces, according to Harder.
The program, which has been in place for just two months, was "built on the fly" and "out of necessity of trying to reduce contracting time as much as possible," he said. It's expected to shave an estimated four to six weeks off contract negotiations between the department and prospective vendors.
The new contract awards are now expected by the end of 2018, but NGEN-R likely won't be fully implemented until 2021. The end user hardware contract, which covers items like computers and mobile devices, should be awarded in November 2018, with full implementation by May 2020. The Service Management, Integration, and Transport (SMIT) contract, which covers services such as printing and customer support, is expected to be awarded in December 2018 and take until September 2021 to fully transition.
Those timelines include a six-month delay on a new contract being awarded, time allotted for potential protest of the contract, and an additional six to 10 months for transitioning services and products from one vendor to another.
The current $3.5 billion contract with DXC (formerly Hewlett Packard Enterprise and CSC) ends in June 2018, but the Navy has announced its intent to award an extension to cover the transition times.
Harder said the overall extension and subsequent award delay is due to the lack of coordination with industry early on. "We did not have an opportunity to fully engage and get everything we needed in place with industry, to get that industry feedback ahead of time," he said. "That was not allotted for in the original schedule."
The goal is for the final product to incorporate contract language that can give vendors the flexibility needed to come up with solutions and for the Navy and its stakeholders to make sure their needs are being met. But it's a process and the Navy is already learning lessons, one of which has been gauging how much time is needed for review.
"We did not have the luxury of time to ensure that industry understood what we were trying to accomplish, how we were going to try to accomplish it, and how much interaction we would actually be asking them to participate in," Harder said.
For example, Harder said he initially gave the industry partners a week to review and comment on a 248-page document. The new standard is two to three weeks.
"We have probably learned more from industry on how to write language into the contract that does not preclude specific solution sets that would be advantageous and provide a better value to the government than if we hadn't done this process," he said. "We're not gearing this toward any one solution, we're just ensuring that we are providing a much more transparent set of information that allow all industry vendors to provide solution sets that meet our expectations."
Note: This article was updated on Sept. 27 to clarify the Navy's plans to cover the extended transition timeline.