DOD 'In the Right Spot' With Cloud, CIO Says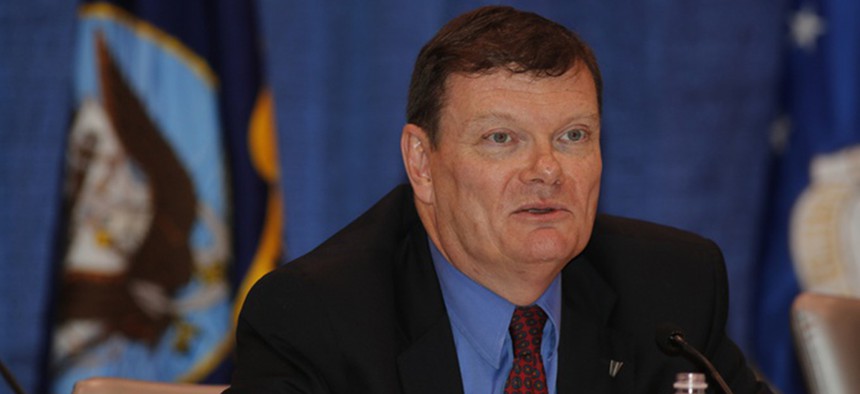 In many ways, DOD's use of cloud computing is not so different from non-IT Fortune 50 companies, Halvorsen said.
For years, critics–particularly those in industry–have lambasted the Defense Department for its cautious approach toward cloud computing adoption, even as the intelligence community and civilian agencies have gone all in.
DOD Chief Information Officer Terry Halvorsen doesn't agree. Nor does he care what the haters have to say.
"A lot of people say we're behind in cloud, I don't actually care," Halvorsen said Wednesday at an event hosted by FCW. "I don't think I am. My job is to support one primary mission. Given that, and given the level of security of the data, I think I'm about in the right spot today."
» Get the best federal technology news and ideas delivered right to your inbox. Sign up here.
Halvorsen said the Pentagon and military branches now use a combination of pure commercial clouds (for things like website hosting), hybrid clouds (to host more sensitive unclassified data) and on-premise clouds operated by DOD itself.
In many ways, DOD's use of cloud computing is not so different from non-IT Fortune 50 companies, Halvorsen said, adding that the military would likely issue requests for proposals for additional cloud offerings in the coming 18 months.
"Certain businesses are better suited for cloud than others," Halvorsen said. "I do think distributed computing is the way to go, not just for the stuff we have, but for a DevOps environment. Distributed computing is democratizing high-end compute for DevOps."
Acquiring cloud services has gone more smoothly, Halvorsen said, since the Defense Information Systems Agency–the Pentagon's IT arm–ceased being a cloud services broker for DOD, instead letting the military deal with directly with cloud providers.
"No offense to DISA, but that slowed us down," Halvorsen said.
It isn't as if DOD has been absent from spending on provisioned services, either. A recent analysis by big data and analytics firm Govini found that DOD is spending big on cloud, preparing for the deluge of data created by the internet of things. DOD accounted for almost half of the entire federal government's platform-as-a-service spend since fiscal 2011, with the U.S. Army totaling $396 million; Air Force exceeding $245 million and other defensewide agencies reaching $294 million.