Technology for the Next Phase of Pandemic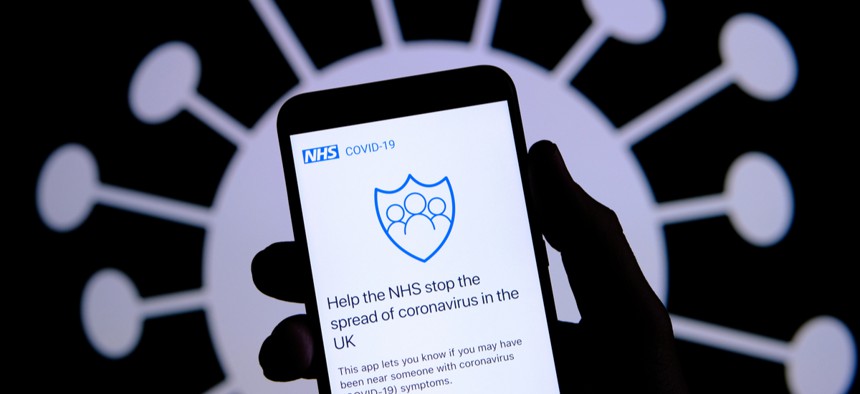 Moving to later stages of reopening will require advancements in two areas, standardization of care and robust contact tracing.
Most municipalities, even ones that were ravaged by the initial wave of the COVID-19 virus, are at least starting to drift into the beginning phases of their reopening plans. While the rules for phase one vary from place to place, generally it means that people can eat at outdoor restaurant tables, visit stores that severely limit shoppers on premises or have curbside pickup. They can also conduct other limited activities like getting a haircut if they wear a mask and take other precautions. I don't personally feel safe doing any of those things yet, but I can understand why people would want to take the risk now that certain activities can be done in at least a fairly safe way.
And while it might be nice to sit in a parking lot turned alfresco dining experience, moving to later stages of reopening will require advancements in two areas, standardization of care and robust contact tracing. The first is required to ensure that people who get infected by COVID-19 are put through a treatment plan using equipment and methods that have the best chance of working. And contact tracing is needed to track down anyone the infected person has interacted with to quash viral hot spots before they can flare up.
Trusting the Treatments
At the moment, treating COVID-19 is not the same as curing it. The treatments being explored right now might help a patient to survive the virus, but they won't technically cure it. Still, it's better than nothing, and the treatments should get more effective until a cure is eventually discovered.
It's critical that patients undergoing treatments follow the prescribed procedure, including having all the correct equipment properly configured and free from tampering. If you look at a standard hospital bed, there are normally between 15 and 20 networked devices performing various functions. It would be easy for little mistakes to slip into that setup. Perhaps one device was made by a different manufacturer and thus has different default settings, while another might be way overdue for a software update. It's even possible that one of those devices has been tampered with or is a counterfeit. All of that could negatively impact a patient needing a very specifically defined treatment regimen.
For Kyle Neuman, the managing director of the SAFE Identity consortium and certification body, it's a matter of trust. The consortium recently completed a massive overhaul of the previous certificate entity, called the SAFE-BioPharma Trust Framework, to bring it more in line with NIST Special Publication 800-63-3 and other federal regulations. The idea is to help health care organizations manage the identities of all devices in upcoming COVID-19 treatments using the same standards advocated by federal agencies.
"Government workers are already relying on federally-issued identity credentials, and trusting people or devices outside of their government network is always difficult," Neuman said. "The SAFE Trust Framework is built on an existing framework designed for federal compliance—we can be that conduit of trust not only for health care organizations and their supply chains, but also between the government and anyone within the SAFE ecosystem."
And the SAFE Identity platform runs deep. Even the settings on individual devices can be digitally signed to confirm that the right patient is getting the correct treatment with no mistakes. Neuman said that the revamped SAFE Identity platform is now ready for use, just in time to help with the next phase of the pandemic.
Infection Investigations with Germ Gumshoes
The other thing that the nation will need is contact tracing. A lot of people have been talking about this, but I've not seen anyone fully explain it. It's basically street-level investigative work, like the kind you would see a private detective do on television when they go around talking with a list of potential witnesses or suspects, only for healthcare.
Aaron Applbaum is an expert at contact tracing. A partner with Israeli-based MizMaa Ventures, Applbaum is working to help technology firms support efforts like contact tracing in health care around the world. 
"The fundamental premise is how can you stop the spread of contagion by identifying an infected person, and warn those who could become infected by virtue of having crossed paths with that infected person," Applbaum said.
Contact tracing is especially important with COVID-19 because of the long incubation period before symptoms develop. It also makes it a lot more difficult for tracers, because they potentially need to track down many more people exposed over long periods of time.
As an example of how it works, once an infected person is identified, contact tracers would create a contact chain to try and locate everyone who the infected person talked with or touched, especially if they were not wearing a mask or other protections at the time. Once located, those new people are tested, and if they come back negative, then that particular part of the contact chain ends there. But if some of them test positive, then contact traces need to also be created for every one of them. 
As you can probably see, it can quickly get out of hand as the chains grow exponentially, especially if the infected person attended some kind of a large gathering like a party or convention.
According to HealthDay News, there are about 30,000 contact tracers in the United States right now as municipalities try to rapidly train these new specialized investigators, though experts warn that we might need 100,000 or more nationwide to combat the pandemic. So if anyone is looking for a job, this is a growing field.
For the most part, contact tracing can be done by hand using pencils and paper and other tried and true methods. But with the unique incubation factor and highly contagious nature of COVID-19, that might not be especially effective, and certainly not very quick. Applbaum believes that technology can offer help, but only if the public accepts it. He advocates using something like an anonymous Bluetooth app that sits on a user's smartphone and automatically alerts them if they might have been exposed to an infected person. The app knows because the infected person's phone came within range of their Bluetooth signal.
He explains how it works. "A list of Bluetooth interactions are kept, encrypted and stored on a server, with no way to tie them back to a specific phone," Applbaum said. "This scenario allows for an infected person to opt-in only after they learn of their infection. Then, a private key is sent to a server that triggers an alert to all of the phones of those whose Bluetooth signals crossed paths with the infected. They are informed that they need to quarantine—but are not provided any specifics."
A country like the United States would be a perfect location for a contact tracing app because almost everyone carries a smartphone. The problem would be convincing enough people that such an app would be safe to use and not an invasion of privacy. And Applbaum knows that government would never be able to demand the public use the tool.
"On a policy level, it's hard to imagine a government mandate to install a contact tracing application, though with enough education and instruction people can learn that it's not that dangerous. And with a critical mass of adopters, everyone will be protected," he said. "If people were open to downloading the application, and opted in to sharing data with epidemiologists, this would be simple. Of course, the emotional element of human behavior is tough to predict."
For now, contact tracing will likely be done by investigators pounding the pavement. And we will just have to hope that they are well trained and can act fast enough to make a difference if the second wave of COVID-19 begins to crest.
John Breeden II is an award-winning journalist and reviewer with over 20 years of experience covering technology. He is the CEO of the Tech Writers Bureau, a group that creates technological thought leadership content for organizations of all sizes. Twitter: @LabGuys