NASA probes quantum tech for sensing applications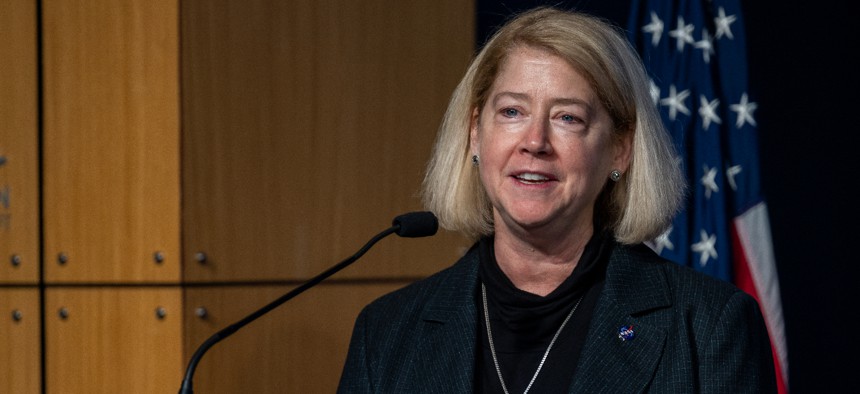 NASA Deputy Administrator Pam Melroy said the space agency is leveraging quantum-based technologies, like sensing, to better study space and climate change.
NASA will be studying ways the agency can inject quantum information sciences into its agency missions with the opening of a new laboratory and research center in Texas that builds upon research priorities in quantum sensing applications.
NASA Deputy Administrator Pam Melroy confirmed the launch of a new quantum engineering and sensing technologies laboratory at the agency's Quantum Pathways for Space for Climate Science Research Initiative at the University of Texas at Austin. 
Launching Nov. 23, the  research center will be underpinned by advances in quantum information sciences and work on applying quantum mechanics-based technologies, particularly sensors, in NASA missions. 
"That integration of those technologies into space systems is what they will be focused on, how to do that effectively and efficiently going forward," Melroy said at the Quantum World Congress on Wednesday. 
At UT Austin, NASA's forthcoming  research facility will emphasize leveraging earth science applications to enhance NASA's understanding, monitoring and predicting of climate change's ongoing effects on the planet. 
Quantum sensing technologies, whose sensitivity can detect minute changes in metrics like temperature, are slated to inform the development of updated interferometry-based systems — which measure interference in light or sound waves — to offer advanced, data-driven insights in climate measurement. Melroy added that continued usage of advanced atomic clocks in space navigation systems and future quantum communication systems is also pivotal to improving NASA's mission capabilities. 
"This is really going to be something that you see transitioning to our satellites that fly around the Earth and look at it, and in studying and inform[ing] our models," she said. 
In addition to the two new centers, Melroy said that she has approved two new quantum sensor studies from NASA's Office of Technology Policy and Strategy. One features collaborations with the National Reconnaissance Office and the U.S. Space Force to better develop parallel scientific research plans, and the other asks NASA's chief technologist and OTPS to inform how a new future agency could be formed to focus on other niche scientific research areas. 
"We're taking a look at how quantum computing approaches are going to be able to help us make more efficient propulsion systems for both air and space," Melroy said. 
Collaborating and partnering with other entities is a major priority for NASA in this endeavor. Melroy told Nextgov/FCW that while the agency hasn't signed anything formal ahead of the announcement, she anticipates ongoing engagement across different sectors. 
"We are definitely talking to interagency partners, academia partners and others," she said.