Larger NASA Budget Essential to Beat China to Lunar Resources, Administrator Says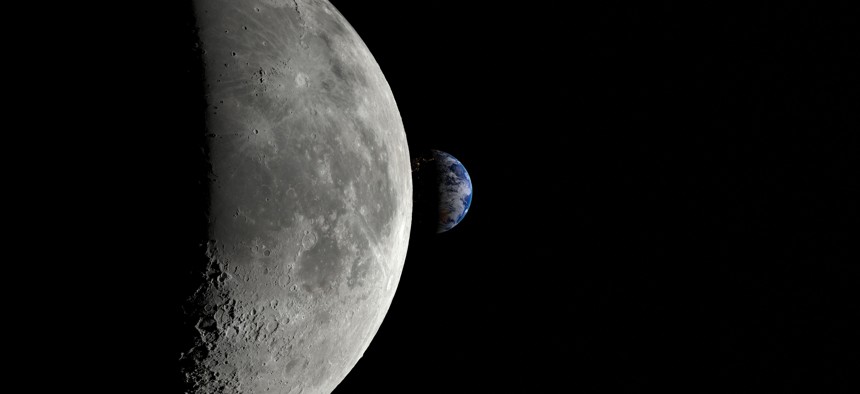 NASA needs an increase in budget to maintain U.S. leadership in space and related research and technology, lawmakers and NASA leadership stated during a hearing before the Senate Committee on Commerce, Science and Transportation on Tuesday.
The committee is working on efforts to create a multi-year NASA authorization to help ensure the agency's continued success, based on the agency's fiscal year 2024 budget request. 
While stressing the importance of funding for the Artemis missions and space exploration, NASA Administrator Bill Nelson reminded lawmakers that "we are in a space race with China."
Nelson added that exploration of the moon's south pole is important because that is where resources are believed to be—namely water that can be split into hydrogen and oxygen molecules. He noted that ongoing disputes over the sovereignty of the South China Sea and China claiming the territory as its own could be a preview of the nation's potential attitude toward those lunar resources.
"I would not want to see them get there first and then claim 'this is our territory in the South Pole, you stay out.' We go as an international mission. We go with international astronauts. We go with international participants in our scientific instruments. I want us to get there first," he said.
Ranking Member Ted Cruz, R-Texas, expressed concern with the budget's focus on greenhouse gasses as a result of the new emissions rule—which is estimated to increase costs across federal agencies by $4 billion, according to Cruz. 
Nelson noted that NASA's Earth-observing mission included planet-impacting issues like emissions and added that the greenhouse gas rulemaking is receiving comments, after which, he could provide more information. While Cruz felt these and the initiative to replace NASA's 2600 combustion vehicles with electric vehicles could increase costs that are not going towards space exploration and NASA's mission, Nelson replied, "if you're suggesting that we should abandon the entire national effort to move towards electric vehicles, I would say that there's a significant difference of opinion about that." 
However, Nelson and Senators at the hearing noted the importance of adequately funding the agency so it can continue important missions like Artemis—which will return astronauts to the moon and eventually to Mars—as well as Quesst—which is exploring supersonic travel without the supersonic boom—and Earth-observing systems, among other things.
Nelson also stated the importance of funding NASA so it can support its infrastructure and space centers to carry out this work, noting the agency has a $5 billion deficit to meet its infrastructure needs. 
"If the resources are there for us, then we're going to have this continuing program of going back to the moon this time to learn, to live, to work, to invent, create for the purpose of going further into Mars," Nelson said.
Space and Science Subcommittee Chair Kyrsten Sinema, D-Ariz., stressed the importance of NASA meeting deadlines for missions like the Near Earth Object survey mission to protect Earth from potentially harmful objects. Nelson reiterated that this mission is critical because the NEO surveyor will enable the agency to identify 90% of all potential asteroids greater than 140 meters wide within 10 years post launch, which is important for Earth safety. He added that this and funding to help with orbital debris mitigation is important for safety. 
"As a Congress, we cannot afford to take NASA and its success for granted," Committee Chair Maria Cantwell, D-Wash., said.
Cantwell noted that the reauthorization passed under the CHIPS and Science Act—the first reauthorization in five years—was important, adding that she would like to authorize NASA for three to five years, which would be the first multi-year authorization in 13 years.
"It should be clear to every member of Congress we cannot operate our science agencies on the cheap and we shouldn't operate them without clear multi-year direction," Cantwell said. 
"Stable growing investments in the technologies of the future—from hypersonic wind tunnels to advanced manufacturing—are the best way to protect our national and economic security."