DHS Seeks Solutions to 'Dark Swarms' of Drones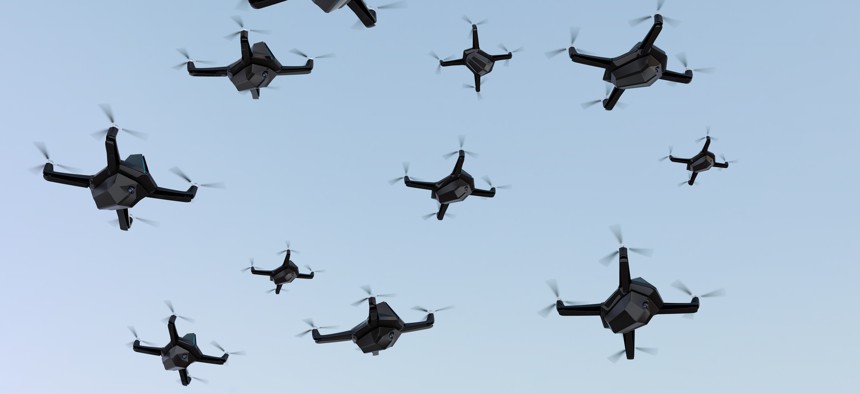 The Department of Homeland Security wants to continue countering illicit drone activity, particularly among unmanned aerial devices that are difficult to spot.
The Department of Homeland Security is looking to better understand and control the "dark swarms" of unmanned aircraft systems, or drones, that continue to take flight over the nation, posing continued national security concerns. 
Outlined in a new request for information published on Tuesday, the DHS Science and Technology Directorate is looking for a solution specifically geared toward the detection, tracking, and reporting of drones that are characterized as "dark"––that is, low visibility.
"S&T is interested in learning about the availability of C-UAS systems with a technical readiness level of five or greater that can detect, track, identify, and possibly mitigate drones that fly without emitting radio frequency communications," said Shawn McDonald, the S&T C-UAS program manager. "We're also very interested in finding technologies that can surgically mitigate a single nefarious drone while in presence of other drones being flown by law enforcement, recreational users or the media."
This particular RFI has a deadline to submit proposals by May 5, with a live demonstration of technological solutions scheduled for July 31 to August 11 in Stillwater, Oklahoma. In addition to tracking and detecting low-observable drones, the RFI also solicits technology that can help differentiate between threatening small UAS and "friendly" small UAS. 
As part of the DHS's previously-established Countering Unmanned Aircraft Systems program, the agency is slated to test C-UAS tech capabilities against drones and modify any existing prototype systems. 
Other agencies that have worked alongside DHS in its drone control efforts are the Department of Justice and Department of Defense. The S&T office will continue to work with these agencies to test and evaluate C-UAS technologies in "operationally relevant environments." 
The federal government, namely the Federal Aviation Administration, has been exploring possible regulations for the popular drone industry as the devices stand to threaten national security through illicit data collection and may be hazardous in the common airspace. 
DHS Secretary Alejandro Mayorkas highlighted drones as one of the emerging technologies that pose challenges to U.S. security, citing their ability to send illicit contraband across borders and conduct illegal surveillance, among other activities.