FDA Set to Issue Final Rule Classifying VR Therapy Device for Pain Relief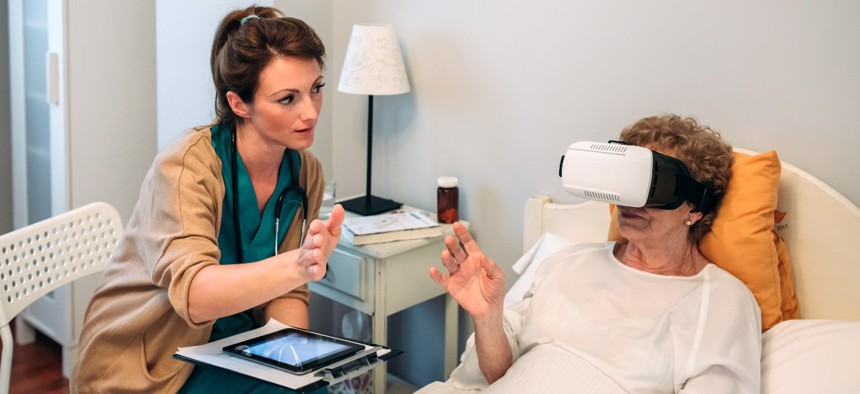 The FDA said the class II designation for AppliedVR's virtual reality medical device for the treatment of chronic lower back pain will "enhance patients' access to beneficial innovation."
The Food and Drug Administration is set to publish a final rule in the Federal Register on Friday that would formally classify a new "virtual reality behavioral therapy device for pain relief" as a class II medical device.
The rule, an unpublished version of which was made available on Thursday, noted that FDA received a request from Los Angeles-based medical technology firm AppliedVR in March 2021 for a risk-based classification of a virtual reality device designed for the treatment of chronic lower back pain—known as RelieVRx and, formerly, EaseVRx—and issued an order in November 2021 granting "De Novo approval" of the device. 
The FDA uses three different classification categories for medical devices, with class I designation signaling that a device presents "minimal potential for harm to the user." The class II designation, which encompasses most medical devices, is for products that offer a moderate to high risk for users and include general controls and special controls designed to mitigate risk. Class III is typically reserved for devices that "usually sustain or support life, are implanted or present potential unreasonable risk of illness or injury," although some devices receive an automatic class III designation by going through the De Novo approval process. 
"We classify devices into class II if general controls by themselves are insufficient to provide reasonable assurance of safety and effectiveness, but there is sufficient information to establish special controls that, in combination with the general controls, provide reasonable assurance of the safety and effectiveness of the device for its intended use," the final rule said. "After review of the information submitted in the request, we determined that the device can be classified into class II with the establishment of special controls."
The rule noted that FDA decided to go with a class II designation, rather than the automatic class III designation through the De Novo approval process, because the agency believes that "this action will enhance patients' access to beneficial innovation."
FDA's final rule noted that the agency identified several risks to health associated with the device, including adverse tissue reaction, electric shock, burn or interference with other devices, nausea and motion sickness, discomfort, improper device use and ineffective treatment. But FDA also outlined the measures required to mitigate the potential risks and said it determined that "special controls, in combination with the general controls, address these risks to health and provide reasonable assurance of safety and effectiveness."
A press release issued by AppliedVR in November 2021 following the FDA's designation of De Novo approval for the device said that RelieVRx "is a prescription-use medical device with preloaded software content on a proprietary hardware platform" that uses "an immersive virtual reality system that delivers VR content while incorporating biopsychosocial pain education, diaphragmatic breathing training, mindfulness exercises, relaxation-response exercises and executive functioning games." 
The company added that the device's software content "comprises an eight-week, VR-based program that helps people reduce symptom severity and the impact of their pain."
In addition to private companies exploring the use of VR-focused medical devices, federal agencies in recent years have also begun working to incorporate new, immersive technologies into the healthcare setting. The Department of Veterans Affairs, in particular, has been testing the use of these types of medical devices, including working with veterans since 2017 to use virtual reality programming as a means of managing pain and anxiety.