DOD Launches 6G R&D Center as it Eyes Transition to NextG Wireless Tech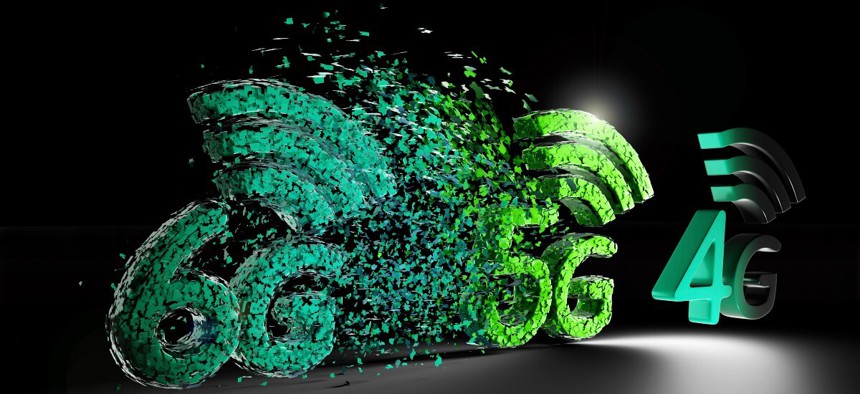 The center will be part of the Department of Defense's Innovative Beyond 5G Program and provide public and private sector collaboration on the emerging technology.
The Department of Defense recently launched three new projects for its Innovative Beyond 5G Program, including creating a research and development hub for 6G technology.
The project, Open6G, is a collaborative initiative between industry and universities, designed to be a catalyst for 6G systems research on open radio access networks, or Open RAN. 
Called Open6G, it will be the DOD's center for "development, testing and integration of trusted enhancements, supporting an industry and federal government NextG ecosystem pursuing 6G technology goals," according to the press release.
The project, led by a $1.77 million award from IB5G, will focus on Open RAN research and open source implementation of 5G protocol stack features to support 5G applications. Pursuant to a cooperative agreement with the Army Research Laboratory, Northeastern University's Kostas Research Institute is managing the project, and the university's Institute for Wireless Internet of Things will house the technical work of the initiative.
"The DOD has a vital interest in advancing 5G-to-NextG wireless technologies and concept demonstrations," Dr. Sumit Roy, program director of IB5G, said. "These efforts represent our continuing investments, via public and private sector collaboration on research and development, for critical Beyond 5G technology enablers necessary to realize high performance, secure and resilient network operations for the future warfighter."
The Pentagon's 6G project comes after several other government initiatives exploring 6G. In October 2021, a proposed bipartisan bill sought to establish a council and implement 6G broadband access in the U.S. Moreover, a December 2021 report highlighted the national security importance of 6G technology and its deployment, particularly keeping an eye towards China. A Center for Strategic & International Studies panel in January of this year also stressed that the policy framework, development and deployment of 6G should be a priority sooner rather than later in order to not fall behind other nations and to learn from 5G mistakes.