Virtual Reality-Enabled Suicide Prevention Training Takes Air Force Staff 'Out of Their Comfort Zone'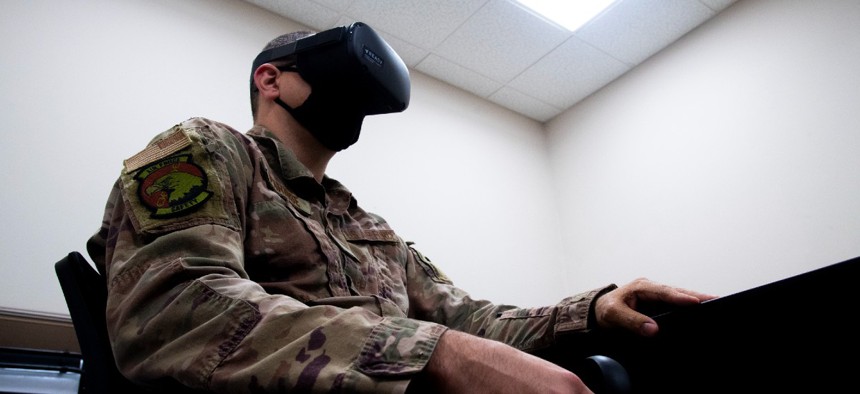 The service is just getting started with its plans for the emerging technology.
Virtual reality technology is helping Florida-based Air Force officials confront and counter suicide, which is reportedly on the rise across the U.S. military.
Late last month, the 6th Air Refueling Wing Integrated Resilience Team at MacDill Air Force base implemented new and immersive training for its personnel, via a virtual reality suicide prevention system.
"This is the future," Lisa Williams, the 6th ARW Integrated Resilience Office community support coordinator said Friday.
Virtual reality generally involves headsets that depict computer-generated environments with simulated scenes and objects that appear to be real. The military and multiple government entities have increasingly invested in and turned to the technology for educational and other mission-oriented purposes in recent years. 
Williams noted that, in this instance, it allowed Air Force leadership to offer options that could best fit the needs of staff who have to go through annual training sessions. For the recent VR-enabled iteration, participants found themselves in scenarios where they had to engage with someone in obvious emotional distress—and ultimately convince that person to reach out for help.
"The training definitely puts you out of your comfort zone," Tech. Sgt. William Parisse, a 6th ARW occupational safety technician, who participated in the exercise, noted. "It forces you to critically think about what you're going to say or do, and depending on what you choose, that distressed person will react."
Suicide is considered among the leading causes of death for U.S. military members. A new analysis released Thursday suggests the number of those in the military who died in that manner increased by 15% last year. Last week three soldiers died by apparent suicides on one New York Army base within 48 hours of one another. 
Parisse "emphasized that the VR training has better prepared him for an encounter with Airmen who show signs of distress" in the press release, and expressed hopes that such interactive VR scenarios will continue to be integrated by the force.
That's likely the case, according to Williams.
"We are just getting started," she confirmed. "We have already seen the impacts VR has had with [Sexual Assault Prevention and Response] training and we are eager to provide our Airmen with these innovative resources. Ultimately, it allows them to push themselves further, in order to be as prepared as possible to save someone's life."