House NDAA Includes Permanent UFO-Studying Office Within Pentagon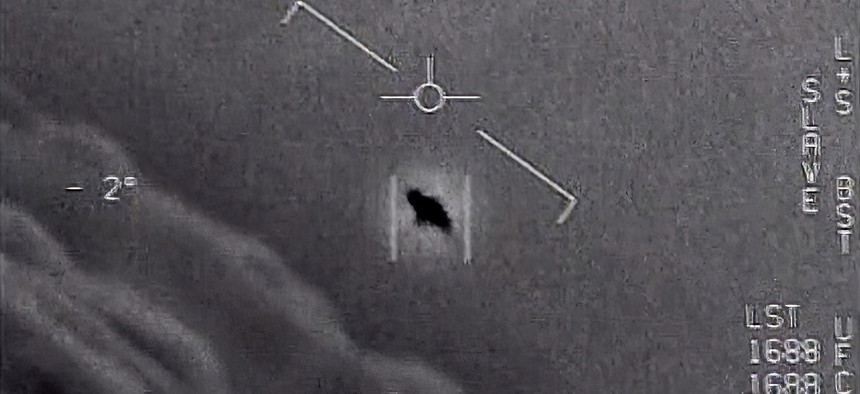 Tucked into the House of Representatives' lengthy fiscal 2022 National Defense Authorization Act proposal lawmakers passed Thursday evening is a provision to form a permanent office under the Defense secretary, where officials would investigate government- and military-provided reports of unexplained sights in the sky.
That office would "carry out, on a department-wide basis, the mission currently performed by the Unidentified Aerial Phenomenon Task Force," according to a less-than-five-page section in the House's NDAA, which was put forth by Rep. Ruben Gallego, D-Ariz., a Marine Corps combat veteran.
The U.S. government has a rocky history of grappling with "flying saucers" and other mysterious water and aircraft. Pre-dated by the hush-hush Advanced Aerial Threat Identification Program in the mid-aughts, the Defense Department's UAP Task Force was formed more recently after mounting public pressure, and the release and authentication of videos depicting Navy pilots engaging with what appeared to be UFOs. An unclassified, 9-page preliminary assessment on the UAPTF released by the Office of the Director of National Intelligence in June confirmed that more than 140 reports of UAP-associated observations originated from government sources in recent years—80 of which were further validated via multiple sensors. 
There's a long path ahead, but if the NDAA ultimately passes with the current House UAP provision, its text would mandate a new office to be established and the modern task force to be terminated by the secretary.
Specifically, officials within that hub would develop a means to synchronize and standardize the collection and analysis of such incidents across federal departments, search for links between these occurrences and foreign governments, evaluate how much of a threat the sightings pose, work with U.S. allies to assess the origins of UAPs and more, the text notes. Starting Dec. 31, 2022 and annually through 2026, the Defense secretary would be required to supply multiple Congressional committees with reports on such phenomenon. Among other topics, those materials would need to include analyses of relevant data collected through geospatial, signals and human intelligence, details of any notable patterns in sightings, and evaluations of health-related effects on people who encountered UAPs. Many of these recommendations were alluded to in that preliminary document from the task force.
The Senate Armed Services Committee's version of the NDAA released Wednesday does not incorporate an inclusion that would mandate this new office within DOD. Still, the chamber's current version of the Intelligence Authorization Act for fiscal 2022 would also direct more classified UAP reports to be produced for Congress in the future and other moves. 
Editor's Note: This article was updated to reflect the passage of the NDAA for fiscal 2022 by the House of Representatives.