FAA Moves to Further America's Cellular-Connected Drone Operations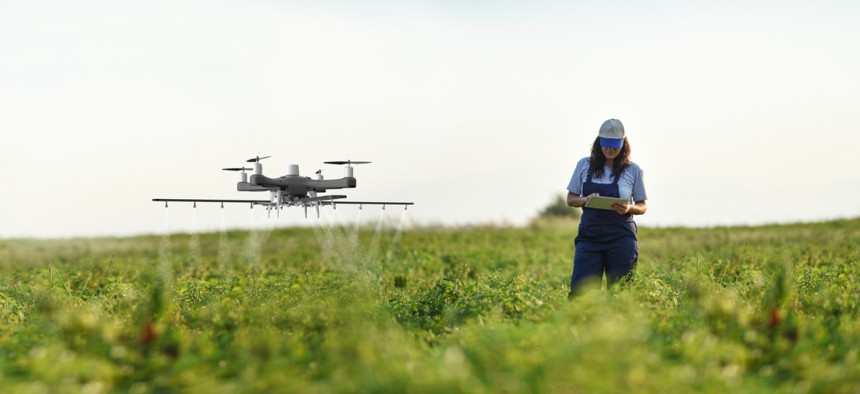 The agency signed a three-year agreement with Verizon's Skyward.
The Federal Aviation Administration linked up with Verizon-owned software company Skyward to experiment with and advance the use of cellular-connected drones. 
Via a recently signed three-year memorandum of agreement, the two want to pave a path toward more complex drone use, including beyond visual line-of-sight or BVLOS, universal traffic management or UTM, and one-to-many operations.
"This MOA began in conversations with FAA officials back in 2017 during the Remote ID [Aviation Rulemaking Committee, or ARC]," Skyward's Director of Strategy Matt Fanelli told Nextgov in an email Tuesday. "As we were discussing the power of Networked Remote ID and its potential to enable beyond visual line-of-sight operations, we realized there was so much potential for this mature technology to apply to our nascent drone industry."
Currently, most commercial drones lean on unlicensed spectrum, which according to the MOA press release, "is restricted in range and subject to interference." Those elements limit its use for more demanding operations. Verizon offers a type of 4G coverage over spectrum protected from interference, which officials said could be advantageous for drone operations.
Through the new agreement, titled "Unmanned Aircraft Systems (UAS)—Cellular Technologies to Support UAS Activities," FAA and Skyward intend to mutually dive deep into the cellular communication networks for command and control, or C2, capabilities within the National Airspace System. In addition, they aim for this collaboration to inform new standards and regulations regarding spectrum used in the C2 link between the drone operator and drone, and improve information-sharing in this space. 
Fanelli said Skyward insiders have long been students of standards bodies work and realized they could help bridge the gap between aviation experts at the FAA and experts at Verizon. 
"We always like to begin discussions of the future by grounding the question in terms of the customers' needs," he further explained. To Skyward, that looks like enabling utility companies to inspect their electricity grids to collect near real-time data after natural disasters, or ensuring medical delivery flight takes the fastest route to the pharmacy where a patient waits to pick up their medicine. 
"But we know those use cases will only work if we can help deploy them safely with proper regulatory frameworks in place," Fanelli said. "This MOA and our regulatory work on the BVLOS ARC will help us set those safety standards and build the Universal Traffic Management software that will enable multiple orders of magnitude more operations than we have today. It's a thrilling future, and this is an exciting next step in the journey."