NASA Releases First Sounds Recorded on Mars' Surface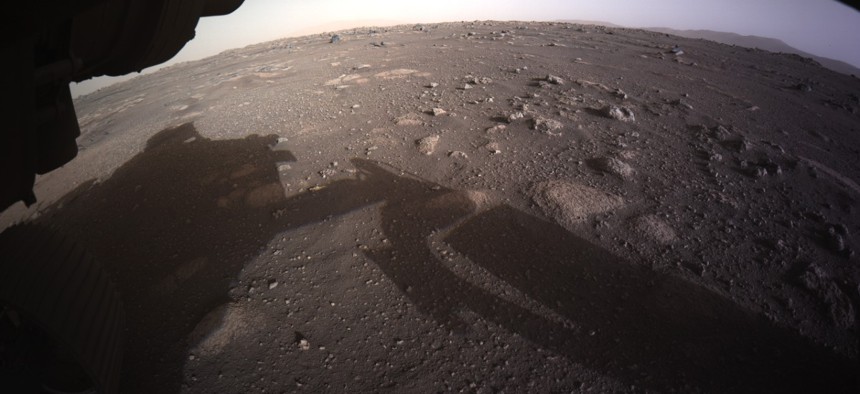 NASA's Perseverance rover captured and transmitted the first audio of a real, Martian breeze. 
The faint sound was recorded straight from the surface of Earth's planetary neighbor by the recently landed spacecraft, beamed back and ultimately released on the agency's SoundCloud Monday. It came among other media—including new video footage depicting some of the rover's chancy descent and landing on Mars last week—that NASA published to provide a fresh view into the red planet. More could follow, officials confirmed.
"Perseverance is just getting started, and already has provided some of the most iconic visuals in space exploration history," Acting NASA Administrator Steve Jurczyk said in a statement.
After embarking on a 300-million-mile, 7-month journey in the solar system, the wheeled robotic vehicle will use built-in instruments to search for signs of past microbial life and study Mars' geology, climate and more. It's the fifth rover NASA landed on Mars and marks just one element of the agency's ongoing preparations to send humans to the planet.
Multiple commercial-off-the-shelf cameras strategically placed on different parts of the spacecraft chronicled its intense ride to the Jezero Crater, where it landed on Mars Feb. 18. The tools were meant to help scientists gain a better grasp of the rover's performance—and to give the public a glimpse into the trip. Though a microphone onboard did not record any usable noises during the descent, NASA was able to collect sounds from the crater on Feb. 20.
"We know the public is fascinated with Mars exploration, so we added the [entry, descent, landing camera system] microphone to the vehicle because we hoped it could enhance the experience, especially for visually-impaired space fans, and engage and inspire people around the world," Dave Gruel, a lead engineer for NASA, said.
Initial inspection of the rover's systems and tools is unfolding, and more media is expected to be transmitted down as the mission continues. 
Images and data from Perseverance will be processed through Amazon Web Services.
"This is the first planetary NASA mission, with mission-critical communication and transfer of telemetry data in the cloud," according to a blog post published by the company Monday.