NASA's Ready for Companies to Put Its 'Robo-Glove' to Use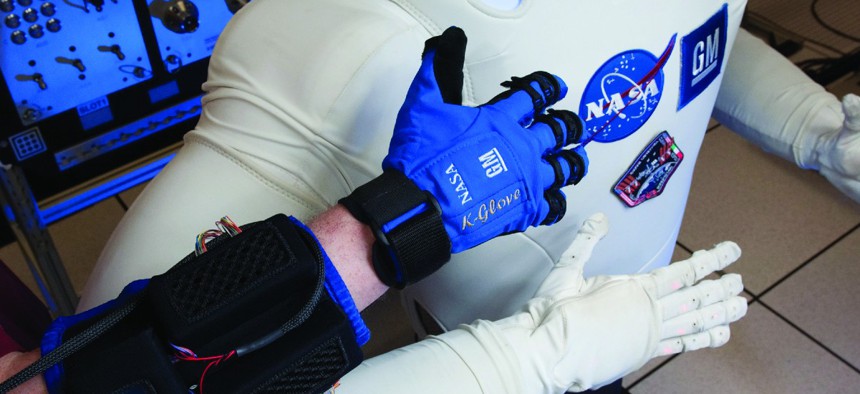 Researchers at NASA's Johnson Space Center designed, produced and patented a lightweight, tech-boosted, robotic handwear device—the Robo-Glove—that enables users to grip or grasp tools or perform repetitive movements painlessly for extended lengths of time.
Now, America's space agency is on the hunt for companies to license or commercialize the futuristic, self-contained unit, which was created in collaboration with General Motors.
"Robo-Glove has the potential to help workers, such as construction workers, hazardous material workers, or assembly line operators, whose job requires continuous grasping and ungrasping motion," NASA officials wrote in a special notice detailing the new technology transfer opportunity Monday. "The Robo-Glove also has potential applications in prosthetic devices, rehabilitation aids, and people with impaired or limited arm and hand muscle strength."
NASA does not manufacture items for commercial sale. But through its Technology Transfer Program, solutions built by the agency are made available for businesses to license, market or further develop into commercial products. 
Though the notice offered sparse details about the Robo-Glove's makeup, NASA's TTP website provides a closer look at the tool and the tech behind it. 
It's technology "was a spinoff of the Robonaut 2," or R2, the very first humanoid robot in space. 
The fully-developed tool is now "essentially a robot on your hand, with actuators embedded into the glove that provide grasping support to human fingers," the agency added. Pressure sensors in the glove's fingertips are much like the ones that provide R2 with its own sense of touch. They can detect when a user is grasping something and the synthetic tendons then automatically pull the wearer's fingers into a gripping position where they're held until released.
"An astronaut working in a pressurized suit outside the space station or an assembly operator in a factory might need to use 15 to 20 lbs of force to hold a tool during an operation," NASA wrote. "Use of the Robo-Glove, however, would potentially reduce the applied force to only 5 to 10 lbs."
The system's power comes from a lithium-ion battery that's worn "separately on the belt," the agency noted. Weighing in at around 2 lbs, the present prototype is also equipped with a small display for programming and diagnostics.
NASA sees potential applications spanning construction and automotive work, medicine, hazardous material handling—and more. Interested entities are invited to submit a license application through its Automated Technology Licensing Application System.