Above-Average Hurricane Season Could Further Challenge Government's Pandemic Response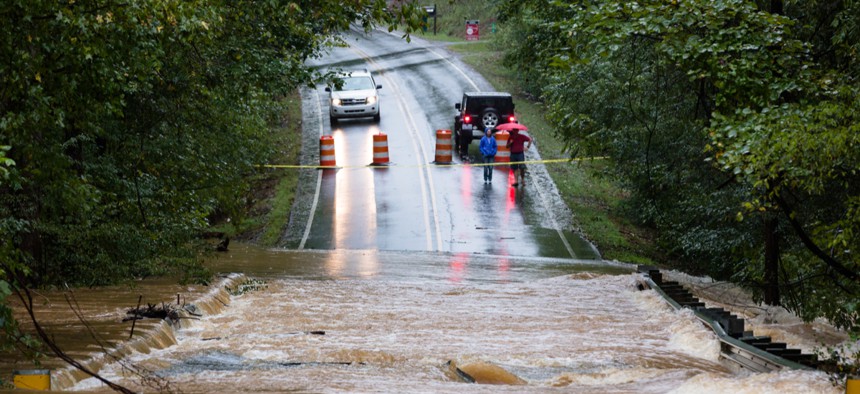 Technology may be key in ensuring the government responds to disasters on multiple fronts, a retired U.S. Army General said.
Citing cutting-edge computer model forecasts, America's weather predictors recently projected the 2020 hurricane season may usher in more storm activity than usual due to warmer-than-average waters in the Atlantic Ocean and other factors. 
On top of the possible increase in storms, the hurricane season that begins June 1 also presents a deeper threat on the horizon: The potential intersection of catastrophic weather with a global pandemic.      
"So we really haven't had this happen before—certainly at the scale that it is happening," Lt. Gen. Jeff Talley, IBM vice president of Global Public Sector and global fellow with the company's Center for the Business of Government, told Nextgov in a recent conversation. 
Representatives from the Federal Emergency Management Agency, the armed services, industry and federal and state governments frequently conduct scenario planning and leverage advanced simulations to prepare for natural disasters, chemical or biological activities and threats that might occur simultaneously. "But I don't think when we get right down to the practice and implementation, I think it's fair to say those disaster management organizations haven't really thought about 'what if we were to have a pandemic' like we currently have with COVID and we have the weather-related disasters that we tend to see as seasonal, such as hurricanes," he said. 
The retired Army officer explained that disaster management—particularly now when hurricane response might need to converge with pandemic response—poses a "big data problem that requires a public-private partnership solution."
Forecasting an Unparalleled Threat
Harnessing IBM data and assets, the Weather Channel's official hurricane forecast expects 18 named storms, nine hurricanes and four major hurricanes during this year's season. That's significantly above the 30-year normalized average, which is 13 named storms, seven hurricanes and three major hurricanes. 
"In hurricane season, ... we normally have a pretty good idea of when and where the weather event is going to occur, the impact of it, and we have normally put some sort of preparation in place, or have a plan—state, local and federal—on how we're going to respond to it at different parts depending where the weather crisis is. There are solutions sent off … and you take people and you concentrate them in a certain area, so we can provide medical, food, water, etc," Talley explained. "Now, the problem is obviously you can't take that same way of delivering a solution for say, evacuation, if you're in the impact zone of a hurricane because of COVID-19."
Several states are currently confronting how they might evacuate people while complying with social distancing guidance to slow the spread COVID-19. An emergency management director for Florida, for example, recently noted that the state's plans will ultimately depend on whether storms occur early in the season or after the number of coronavirus cases across the state drops. Insiders are examining whether they'll divert people who show symptoms to potential COVID-19-only shelters, how they'll shuttle them and if they should use hotels instead of other types of mass shelters. 
A FEMA spokesperson told Nextgov that even as the agency responds to COVID-19, officials "are also preparing and maintaining readiness for other disasters to include spring flooding, severe weather and the upcoming hurricane season." The official said the agency currently has more than 3,035 employees supporting the COVID-19 pandemic response, out of more than 20,443 personnel "who are prepared to respond to other emergencies should they occur."
"FEMA considers every employee an emergency manager, and each employee has regular and recurring emergency management responsibilities. The agency has developed a series of online trainings to expand the cross-training of its workforce and build additional capacity," the spokesperson said. "Should additional support be needed, FEMA is able to activate the [Homeland Security Department's] surge capacity force composed of federal employees from DHS and other agencies."
That ongoing preparation could prove critical. But According to Talley, disaster response officials aren't able to access and harness all the pertinent data that exists in real-time once an incident happens. 
Technological tools to support disaster management efforts already exist, but the retired general sees a deeper need for one streamlined and distributed, data-driven response solution that would enable all necessary government officials and private-sector entities to "visualize a common operating picture" firsthand. 
"I don't want to give you the impression that we don't have the visualization capability of FEMA or other organizations. We do," Talley explained. "But we don't have the ability yet to have a common platform where that is shared amongst national, state and local governments, as well as say, the private sector, the nonprofits, and don't forget the for-profit private sector. They're critical."
But 'Who Owns the Battlespace?'
After Hurricane Harvey decimated parts of the nation in 2017, IBM sent Talley to Texas to help lead the company's response efforts on the ground, assist the state's task force and support the governor and his team's work to help Texans bounce back. During those recovery initiatives, the Cajun Navy—a sort of ad-hoc cadre of volunteers who use their private boats to assist in post-hurricane search and rescue—offered their services to help out. Following guidance from the state's emergency operation center and others, the volunteer responders went out by boat to help rescue someone who was on top of a house that was underwater. 
"So the Cajun Navy or others would go out to help as volunteers. We, the [emergency operation center], would not know that the waters were electrified because the electrical lines are down. The utility company may not know they're down, may not know that they're hot," Talley explained. "And so then [the volunteers] would get out of the boat to search and rescue—and they would be electrocuted. That happened."
With that unfortunate event and the current national scenario in mind, Talley said a proper streamlined technological product that incorporated already existing information from the electrical grid, as well as information about specific geographic locations, roads, medical supplies, details from social media and other helpful data—and that also unleashes artificial intelligence to support response—could alleviate some of those risks. 
IBM is taking a stab at developing such a platform and though he couldn't offer many details, the retired general said experts inside the tech company are currently taking existing technologies they've already built with others, mainly for defense intelligence and commercial clients, and through a series of sprints, working to "demonstrate the capability and try to address the requirements of as many end-users that you would have," across multiple local, state and national organizations during a response. The work is being done in collaboration with the Defense Department's Joint Artificial Intelligence Center.
But even as new response solutions are being considered, Talley noted that there is still a major challenge at the forefront of the nation's disaster management that boils down to one question: "Who owns the battlespace?"
"Is there one person, or one organization that clearly owns all the battlespace and everybody in that battlespace knows who it is and is going to listen to and comply with their authority and their responsibilities to do whatever needs to be done in the battlespace—and the answer's no. Often what we see in a traditional hurricane or traditional disaster management, is you have lots of resources coming in, but you can't get them to where they're needed the most, because there isn't an ability to coordinate and integrate all the players that are in the impacted area and on the fringe of the impacted area because there's no single organization that has that authority, they don't own the battlespace," Talley said. "And so the problem is, there isn't one single owner—it truly has to be a public-private partnership."
FEMA did not weigh in on whether its own officials see a need for a technological integrated response tool as hurricane season approaches during a pandemic. But the agency's spokesperson did highlight that officials are working directly with states and other partners to prepare for the issues that may arise, and address how COVID-19 might "change sheltering or other more traditional resources provided during emergency response."
"We have some great partnerships. And in the current COVID-19 response, every level of government, the private sector, nonprofits and faith-based organizations are all involved, so all possible resources are being put to use," the official said. "And in any future response, those will be valuable resources that can be brought to the table."