Medical Consortium Preps to Fast-Track Tech to Battle COVID-19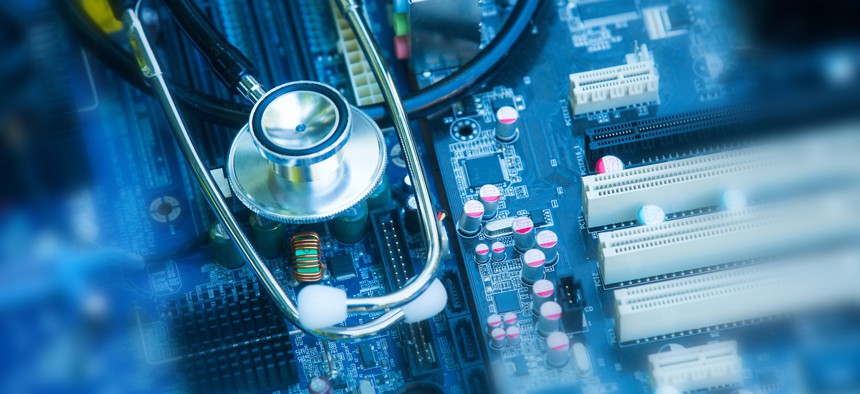 One or more requests for project proposals could be on the horizon.
A biomedical technology consortium that collaborates with the U.S. Army Medical Research and Development Command under an other transaction agreement might soon solicit proposals for innovative emerging technology prototypes that can be rapidly deployed—before the end of this year—to curb and combat the novel coronavirus.
The Medical Technology Enterprise Consortium, or MTEC, recently outlined aims to launch an expedited acquisition approach to trial and implement new technological solutions and unleash them into the real world to fight COVID-19 as soon as possible, and no later than Dec. 31. 
The consortium published a presolicitation Sunday to notify interested stakeholders to begin preparing for one or several soon-to-come requests for project proposals.
"In light of the magnitude and potential threat that the [novel coronavirus] poses to our military's health and readiness, the government seeks to rapidly accelerate the inquiry, testing, and fielding of new 21st century capabilities, employing novel technologies and approaches to the detection of exposure, prevention, containment and treatment of COVID-19 and future emerging threats," officials wrote in the presolicitation. 
As an internationally-dispersed consortium, MTEC partners with more than 300 organizations, including small and large companies, academic institutions, federal agencies, and nontraditional defense contractors to speed up and advance the creation of medical solutions that support the U.S. military. Entities often have to be consortium members to participate in prospective solicitations, but "due to the critical and urgent nature of the technical topic area" at hand, membership will not be required to participate in the initial step for these impending RPPs. It will be required, however, for those that are recommended for award. 
In the presolicitation, officials note that though "there is no specific funding commitment by the U.S. government at this time, MTEC believes that there may be tens of millions of dollars available for combating COVID-19 programs with a likelihood of follow-on funding." 
Based on its own interpretation of the military's critical needs, the consortium lays out a range of specific, strategic areas of interest for prototypes that could be of use, including: point-of-care diagnostic capabilities that can rapidly determine if a patient's been exposed to COVID-19; therapeutics and prophylactics that can be used for rapid prevention or treatments spanning only several hours to two days; patient monitoring, tracking, and management systems for non-hospital environment patient telehealth services that can interface directly into the Cerner electronic health record; and disease predictive modeling tools that provide early warnings of outbreaks by capturing data from many sources, including social media, and harnessing advanced artificial intelligence capabilities.
The consortium launched the pre-announcement to help ensure that relevant entities "are poised to respond" to the possibly subsequential RPPs it is preparing to release, which would entail "an accelerated approach to award." The MTEC plans to potentially implement what it calls its  "Enhanced White Paper" contracting methodology, which would require offerers to submit comprehensive proposals within two weeks—that would include an abbreviated technical approach, detailed statement of work, and an estimate of cost—with awards to follow within the next four to six weeks. 
"Contingent upon approval from the government," the upcoming request(s) for proposals are expected to be released within the next few weeks, "and will have an extremely short preparation period" of approximately 14 days, officials said.
The forthcoming solicitation(s) will be posted on both MTEC's site, and on the federal acquisition site, beta.sam.gov.