DHS Kicks Off DNA Collection Program for Some Detainees at Border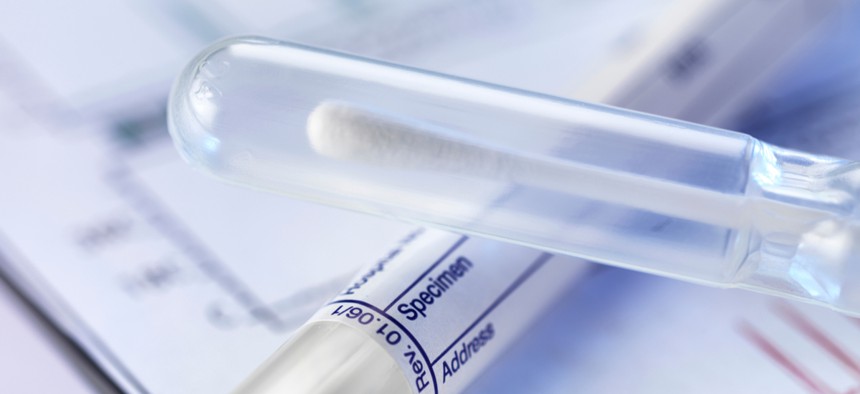 Border agencies will send samples to the FBI's databases for indefinite storage.
The Trump administration on Monday kicked off a pilot program to collect DNA samples from people in immigration custody at two U.S. border locations.
Within three years, the program could expand to mandate DNA collection from some U.S. citizens. The administration announced the plan in October and Justice officials said the DNA collection would reduce crime and support investigations. 
Over the initial 90-day pilot, U.S. Border Patrol agents will collect DNA from individuals aged 14-79 apprehended at the Canadian border near Detroit and those detained at the Eagle Pass port of entry in southwest Texas, according to a Homeland Security Department memo published Jan. 6. Officials will not take DNA samples from those individuals entering the country legally or people held for additional screening but not placed into detention.
The memo explains DNA samples "from individuals arrested, facing charges, or non-U.S. persons who are detained" will be sent to the FBI for input and indefinite storage in its massive Combined DNA Index System, or CODIS, database. The database contains DNA profiles submitted by state and federal agencies and forensic laboratories and is used to link crimes to known offenders.
The pilot stems from a proposed rule that would eliminate exemptions previously used by Homeland Security to adhere to the DNA Fingerprint Act of 2005, which directs the agency to capture DNA samples from detained migrants.  
According to the memo, the initial DNA collection at two sites is the first of a "five-phased pilot approach" over the next three years that will eventually apply to all U.S. border sites—and potentially U.S. citizens. Those who refuse to submit to a DNA swab could be subject to a misdemeanor criminal charge.
"When fully implemented, [Customs and Border Protection] and [Immigration and Customs Enforcement] will collect DNA samples from the following groups of individuals in custody: Criminal arrestees including U.S. citizens, lawful permanent residents, and aliens; all non-U.S. persons detained for processing under administrative proceedings and released on their own recognizance; all non-U.S. persons who are detained for processing under administrative proceedings and voluntary withdraw application; all non-U.S. persons subject to expedited removal, reinstatement of removal, or administrative removal; and all voluntary returns," the memo states.