NIST Is Offering $6M For Technical Help With Its Smart Grid, IoT Research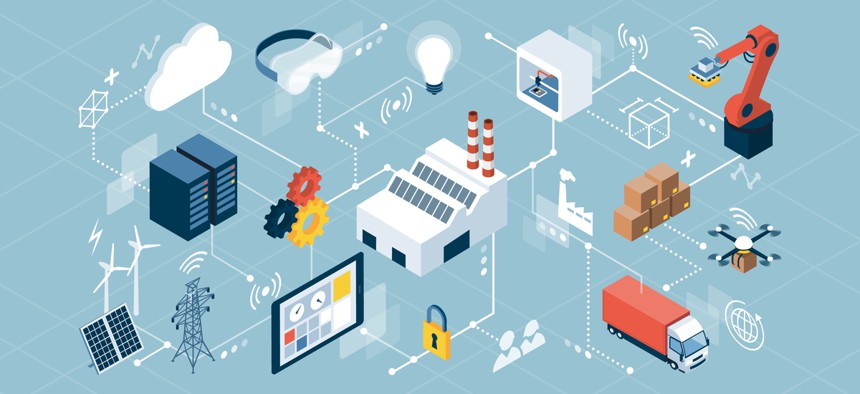 The standards agency is building a contract for technical services in support of its cyber-physical systems research.
The National Institute for Standards and Technology is building a contract vehicle for a range of services in support of its work in cyber-physical systems, such as smart cities and the internet of things.
The standards agency released a request for proposals Thursday for a multi-award indefinite-delivery, indefinite-quantity contract that will be worth up to $6 million over five years.
Vendors on the contract vehicle will help with NIST's work on cyber-physical systems, which the agency described as "smart systems that comprise interacting digital, analog, physical and human components engineered for function through integrated logic and physics." The RFP offers the internet of things, smart grid and the Industrial Internet as examples.
The agency created the Cyber-Physical Systems Public Working Group in 2014 to bring in expertise from across sectors. Since that time, the team has developed several guidance documents, including the CPS Framework and the IoT Enabled Smart Cities Framework, or IES-cities, as well as establishing the Global Cities Team Challenge.
As this work continues, NIST is looking to build a contract vehicle with a slate of vendors able to assist with several technological areas, including:
Technical support of the public comment process, including document management and preparing notices for posting on the Federal Register.
Subject matter experts able to sit on various technical committees and working groups. Initially, NIST will be looking for experts in areas such as smart buildings and infrastructure, smart transportation and mobility, smart grid, smart manufacturing and smart health care.
Program management support, particularly in the area of standards development.
Organizing and facilitating technical meetings and workshops at the NIST campus in Gaithersburg or at offsite locations.
Research support, including planning, implementation and analysis for research projects.
Coordinate between other cyber-physical systems efforts going on outside of NIST.
Assist in developing requirements, documents, source code and test code for testing activities.
General technical support not included under the other specific tasks.
While the working group knows it will need assistance in these areas, the team also acknowledges that its work is ever-changing, just like the technologies they study. In order to remain nimble, NIST opted for a multiple-award IDIQ through which the team can issue task orders for work as needed.
The contract will have a one-year base period with four one-year add-on options. NIST has opted to restrict awards to small business offerors, under the $16.5 million size standard.
To qualify for the contract, vendors must be able to field employees with specific qualifications, including a contract program manager, a task order manager, a senior subject matter expert and a technical analyst, all with at least 10 years of experience. Contracting officers noted that advanced degrees or certifications will not be accepted as substitutes for work experience.
Questions on the solicitation are due by 11 a.m. Dec. 3. Bids must be submitted no later than 11 a.m. Dec. 20.