DHS Launches Smart City Sensor Pilot in St. Louis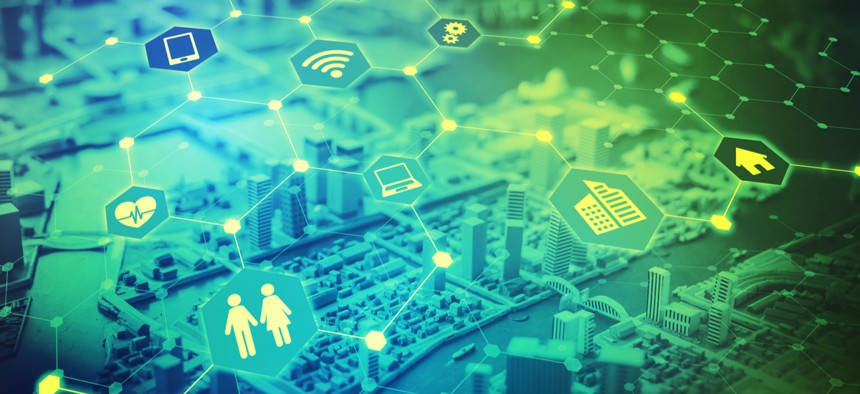 The outcomes could inform the city's future procurement decisions.
The Homeland Security Department's Science and Technology Directorate is kicking off a pilot program that will test the integration of smart city technologies in St. Louis, Missouri, the agency announced Wednesday. 
Working in collaboration with the city and the Open Geospatial Consortium, agency insiders will use the pilot to research, design and assess Homeland Security's Smart City Interoperability Reference Architecture, or SCIRA. 
"There's tremendous pressure on cities, right now," Norman Speicher, a program manager working in the weeds of the project told Nextgov. "Many municipalities, I do hear that they are being pressured and that there's this expectation that they know what 'smart cities' means—and it really means many things to many people."
As more cities turn to next-generation technologies to support public safety, the department recognized a need to ensure that the new smart tech is interoperable with city departments and other jurisdictions and that city officials understand its potential, implications and requirements. SCIRA aims to assess standards as they develop in the realm of public safety and support the development of an open architecture for interoperable internet of things sensors. 
Through its findings, the program seeks to offer cities open methods for incorporating IoT sensors into their services while also ensuring that appropriate standards are being met. 
During the pilot set to take place at a technology innovation center in downtown St. Louis called T-REX, Homeland Security will test how SCIRA works as a framework to integrate commercial proprietary IoT sensors and other devices for public safety applications at the community level. It will essentially integrate and test existing technologies' impact on daily operations. Insiders will evaluate the technologies' performance and capability to boost public safety through a series of events such as flash flooding, vulnerable population outreach and building fire scenarios. 
"Smart cities can augment the information that cities have at their disposal and allow them to be more efficient," Speicher said.
Speaking from St. Louis where he's attending kick-off events, Speicher said the comprehensive project will rollout as a series of activities. This week, a variety of city, federal and OGC stakeholders are meeting to learn about and discuss various scenarios and how the technology provides augmenting capabilities. In October they'll meet again to hone in on what execution will really look like and the final event will culminate into a blend of table-top exercises and operational elements of a sort of real-world scenario that demonstrates how city insiders can leverage the tech. 
"This is a way to get them to think creatively and operationally that this is the tech that exists out there and ultimately what they are looking to do is use that to continue to think about what would be their priority in terms of procurement and what would have the most immediate operational impact and benefits," he said. "So it's really to further their vision and discussion to what a smart city means to St. Louis."
Speicher said the city will need to pull in elements of their existing infrastructure to be realistic and garner the most effective insights from the project. St. Louis' chief technology officer, who serves as Homeland Security's main point of contact, likely plans to leverage some small sample of the city's cameras as an example. They are also going to deploy flood sensors from another Homeland Security project. 
"We realize that the timeline won't allow for a complete integration [of the tech], but certainly enough to collect meaningful information and understand the scale and scope of what a procurement and subsequent implementation might look like," he said. 
With that in mind, he said stakeholders involved are already making careful considerations around privacy and security. 
"I'm sensitive to it," Speicher said. "I don't know the scale or scope at this point in time but I don't see it as being fundamentally different than our other experiments in the sense of ensuring that we can evaluate the tech without any exposure or concerns with privacy-related data."
He added that the collaboration is already proving to be "a great alignment of the stars." 
On top of the city's initial enthusiasm and opportunistic timeline, when considering the collaboration Homeland Security also valued St. Louis' desire to have the smart city research ultimately inform their future acquisitions. 
"If we have a significant impact in informing St. Louis in their procurement decisions and their acquisition decisions, I think that's definitely the ultimate goal," he said. "We would logically then look to replicate this for other cities."