Automation Will Be a Requirement of a Shrinking Workforce, Not Its Cause, Officials Say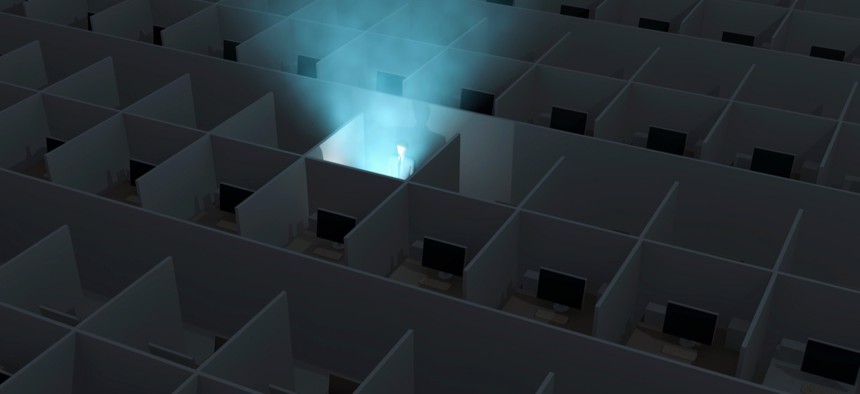 While the budget focuses on reducing headcount, officials said that isn't the goal of pushing more automation.
One year after the release of the President's Management Agenda, administration officials continue to tout the benefits of automation in improving day-to-day workflows for federal employees.
But the president's budget requests, released this week, mention automation in only a few places, where it tends to focus more on reducing headcount.
Last year, the Office of Personnel Management suggested automation could replace some 5 percent of jobs currently being done by federal employees, though the majority of positions—60 percent—would merely see a reduction in their workloads, estimated at about 30 percent.
Among the analytical perspective documents released with the budget request this week, automation is only mentioned twice: OPM's continued "failure to automate its retirement processing function" in the Reorganization document and under a heading on the changing employee demographics in the Strengthening the Federal Workforce perspective.
The latter instance mentions automation as a means for "reducing personnel needs." The full text:
Agencies will continue to examine their workforces to determine what jobs they need to accomplish their missions, in light of technological changes that automate transactional processes, artificial intelligence that can streamline compliance and regulatory processes, online and telephone chat-bots that can improve customer service, and other tools that may reduce agency personnel needs. Several agencies are already using shared-service models for mission-support positions, which may also reduce their need for full-time employees. Changes in federal procurement, real-estate utilization, and administrative processes can also reduce personnel needs.
This is a departure from previous discussions around automating employee tasks, which tended to focus on eliminating low-value work rather than reducing headcount in the workforce.
Margaret Weichert, deputy director for management at the Office of Management and Budget and acting director of OPM, said not to read too much into the specific language used in the budget.
"When I look over time at how we're going to have to do work as baby boomers retire, there is a simple reality: Gen X that is coming right up behind the baby boomers is a much smaller generation," Weichert said Wednesday during a conversation with reporters at an event hosted by the National Academy of Public Administration on the first anniversary of the PMA. "Yet, I know I have to deliver mission without that same population that the baby boomers represents."
As the baby boomer generation retires, there won't be enough mid-career people to backfill the current positions, Weichert said. Instead, the administration is looking at how automation can supplement that natural reduction in headcount.
"Having people work on low-value work means they're not putting all of that talent to its highest and best use. So much of what we're doing is really about gearing ratios," Weichert said. "Do we have the right gearing ratio to support the workforce we will have 10 years from now when the people who are inevitably going to retire are no longer here? How do I actually set up for that?"
While the budget does link automation and reduction in headcount, Weichert said those considerations are more about the financial situation of agencies and offices rather than targeted reductions.
"We are in a fiscal challenge—a real debt problem that we have to address," she said. "But it isn't about targeting [full-time employee positions], it's about the dollars."
Federal Chief Information Officer Suzette Kent agreed, saying her office will not be using headcount as a metric of success toward automation goals.
"The target is reduction in number of hours, increase in speed of delivery of service, decrease in errors," she said. "It's not a decrease in the number of people. That's how we're measuring success in this."
Weichert agreed, adding that people who want to continue working for the government will not be turned away.
"I've said this repeatedly: If people want to be here working in government, our goal is not to eliminate those people," she said. "In fact, there are many missions where I need more people," including cybersecurity, IT, data analytics and database administration.