For First Time in 3 Years, NASA Is Shopping For New Spacecraft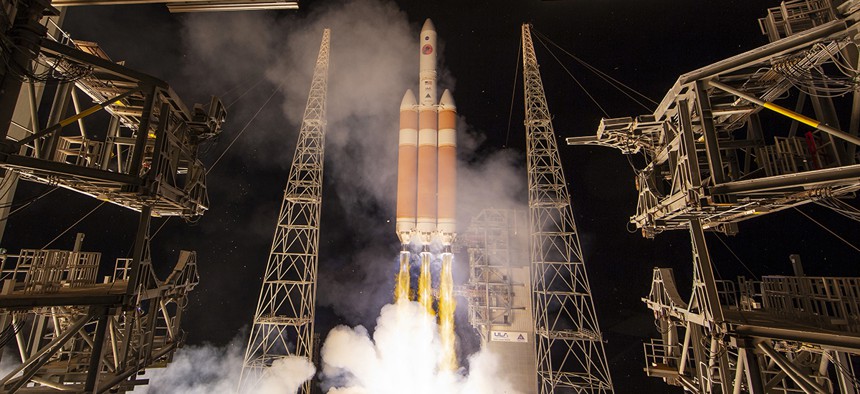 NASA is changing course and holding an open season on its commercial space launch contract this year, opening the contract to new vendors and vehicles for the first time in three years.
The Launch Services II contract—which NASA uses to work with private companies capable of delivering goods and astronauts into orbit—was first awarded in 2010 with a period of performance of 15 years. In order to capitalize on the latest tech being developed in this emerging market, contracting officers built in an annual on-ramp period to accept new commercial partners.
However, the agency doesn't hold the on-ramp sessions every year, as the marketplace can be slow to evolve. The last on-ramp period was held in 2015, during which three spacecraft were added to the contract.
To date, only four companies have managed to secure a spot on the contract—Lockheed Martin Corp., United Launch Services, Orbital Sciences Corporation and Space Exploration Technologies—for a total of nine spacecraft since it opened. Lockheed Martin has since requested to be removed from the contract, leaving only three vendors.
As this summer's on-ramp period approached, NASA officials didn't expect to add any more in 2018.
"Based on NASA's knowledge of the current U.S. domestic launch service marketplace, it is not anticipated that any new or existing offerors will have a launch vehicle to on-ramp during the 2018 NLS on-ramp period," NASA contracting officers said in a June 7 notice on FedBizOpps. "Based on this, NASA does not anticipate releasing a solicitation revision to request proposals for a 2018 on-ramp."
Even so, officials encouraged potential bidders to respond to the presolicitation notice, with the caveat that NASA would not hold an on-ramp session unless "viable responses are received."
On Monday, NASA announced it would, in fact, be holding an on-ramp this year. The 2018 session is the fifth in the contract's history, with previous on-ramp periods held in 2011, 2013, 2014 and 2015.
"Industry response to the RFP synopsis released in early June 2018 revealed enough interest to warrant issuance of the 2018 on-ramp solicitation," Jim Norman, director of Launch Services at NASA headquarters, told Nextgov. The agency declined to provide any details on the number or nature of the responses, so it's not clear if there is a new company looking to get on the contract or a new vehicle from an incumbent.
While new spacecraft have been added from time to time, the addition of another vendor through the on-ramp process would be a first for the contract, Norman said.
Interested companies must submit their proposals to NASA's Central Industry Assistance Office by 4:30 p.m. Nov. 29. Only U.S.-based companies can apply.