Lawmakers Want to Curb Big Tech's Influence on Kids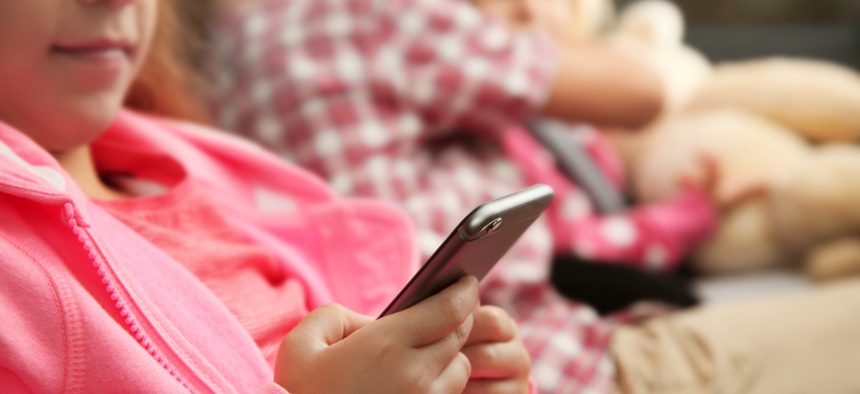 Those smartphone addictions are not a joking matter, according to a trio of lawmakers.
Lawmakers are pressing Congress to update laws to shield children from the negative effects of social media and smartphones, and double down on efforts to check the power of tech industry titans.
"[Technological] change is accelerating, and the government is unfortunately in a position where it's never been worse at dealing with change," Rep. John Delaney, D-Md., said Wednesday at Common Sense Media's Truth About Tech conference. He called technology addiction "a crisis" and linked it to a rise in bullying, mental health issues and suicide among adolescents.
Delaney, alongside Sens. Ed Markey, D-Mass., and Mark Warner, D-Va., called for government to explore the potential impacts of technology on children and play a bigger role in fighting online misinformation, protecting personal data and securing the internet of things.
At the conference, Markey previewed a bill that would commission a study at the National Institute of Child Health and Human Development to dig into the behavioral and health effects of electronic media on kids. He said he plans to introduce the bill in the coming weeks.
Markey also stressed the need for tech companies to better protect the privacy and security of data collected from children, citing his inquiries into Facebook's "Messenger Kids" app and a since-canceled Mattel baby monitor that would have transmitted audio and visual data back to the company.
Tech industry giants like Facebook, Twitter and Google have increasingly come under fire on Capitol Hill after investigations revealed Russians used the platforms to meddle in the 2016 presidential election. Warner called the weaponization of social media an "unresolved national security threat" that should force Americans "to step back and take a whole new holistic approach" to the role of technology in society.
He warned children could fall victim to deceptive tactics bad actors use online and pushed for tech companies and federal lawmakers to crack down on the nefarious behavior. Industry and Congress must also work to secure the growing number of internet-connected devices in homes and workplaces, which open up potential security vulnerabilities, he added.
"This is not a problem where we could do the normal congressional [act] and punt it for two or three years," Warner said, urging Congress to "get ahead of this problem before it becomes insurmountable."
Democrats and Republicans should be able to find common ground on cybersecurity issues, but instead of pushing forward, they are "relitigating battles of the past," said Delaney. He blamed "hyper-partisan" politics for hampering government's ability to respond to changes in technology.
"We all know the cost of doing nothing is not nothing," he said. But with more research and better oversight of the tech industry, he added, "we can have competition and actually understand the effect this progress is having on our kids."