Lawmakers Propose New Commerce Authority to Ban Foreign Adversaries' Tech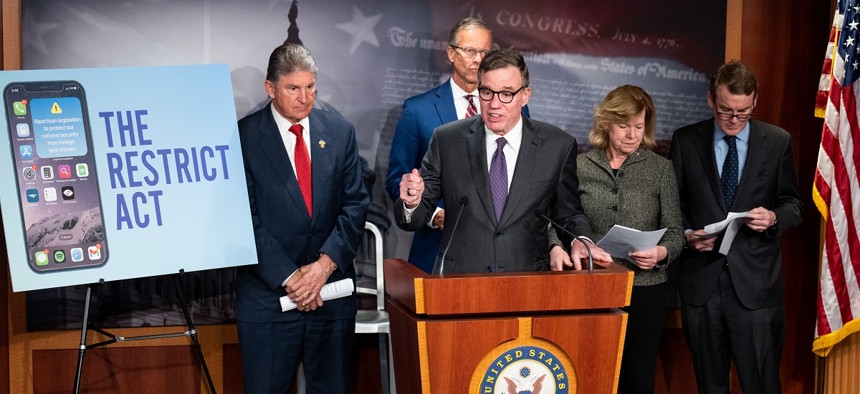 The federal government is contemplating taking more action against technologies owned by foreign adversaries, with a bipartisan group of lawmakers introducing new legislation to limit the potential exploitation of sensitive American user data via applications like TikTok. 
Introduced on Tuesday by Sens. Mark Warner, D-Va., and John Thune, R-S.D., the Restricting the Emergence of Security Threats that Risk Information and Communications Technology Act seeks to mitigate threats from foreign-owned technology products and services. 
Shortened to the RESTRICT Act, the legislation targets potential threats posed by communication and information technologies that handle data from U.S. users and that are owned by adversarial nations, including Russia, China and Iran.
"What our new set of rules do is not only takes on existing hardware, software and mobile apps, but we've said 'we need to make sure that we are extensive enough to look forward so that we're going to include AI products and services, FinTech, quantum communications and e-commerce,' all areas that were not covered earlier," Warner said during a press conference on Tuesday. 
The RESTRICT Act notably grants the Department of Commerce authority to go as far as prohibiting the transaction of technologies it deems dangerous to the U.S. national security. Previous federal efforts within both the Trump and Biden administrations have sought to limit the exposure of U.S. information via social media and telecommunications networks, particularly on federal devices. Thune said during a press conference that his bill builds upon these previous executive efforts.
"It's important to establish a holistic and methodical approach to the challenges that are posed by technology from foreign adversaries," Thune said. "It's safe to assume that if the CCP [Chinese Communist Party] is willing to lie about its spy balloon and cover up the origins of the worst pandemic in 100 years, they'll lie about using Tiktok to spy on American citizens."
Provisions within the RESTRICT Act would task the Secretary of Commerce with establishing procedures to evaluate whether a foreign technology company is a threat to U.S. national security, ensure appropriate measures will be taken following a review of a given technology, and work to educate the public about ongoing digital threats. 
In addition to boasting 12 cosponsors that come from both parties, the RESTRICT Act received support from the White House in a statement released yesterday. 
"The information and communications technology products and services supply chain is integral to the lives of Americans and the functioning of U.S. businesses," the statement reads. "This bill presents a systematic framework for addressing technology-based threats to the security and safety of Americans."