Biden Reportedly Will Propose a 5.2% Pay Raise for Feds in 2024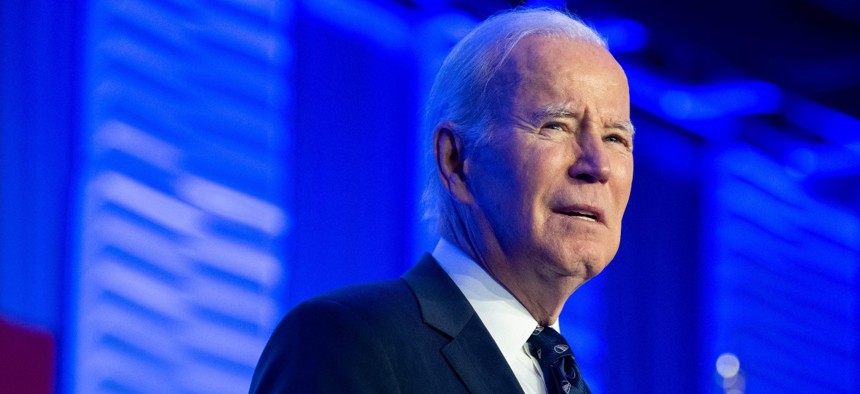 This would mark the largest boost federal employees have seen since the Carter administration, but still falls short of union and Democrats' demands.
President Biden is reportedly planning to propose that federal employees receive an average 5.2% pay increase in 2024 when he releases his budget plan Thursday.
The 5.2% figure was first reported by The Washington Post on Wednesday, and although it did not specify how that would be divvied up between an across-the-board raise in basic pay and average increase to locality pay, traditionally presidents have set aside 0.5% of the overall figure for locality pay.
Government Executive was unable to independently verify the reporting, with officials at the Office of Management and Budget declining to comment. But John Hatton, staff vice president for policy and programs at the National Active and Retired Federal Employees Association, noted that the figure is in line with an annual statistic cited as a baseline for both military and civilian pay increases by the 1990 Federal Employees Pay Comparability Act.
"It's what we expected and a believable number, because it's based on the recent change in the [Bureau of Labor Statistics'] employment cost index for private sector wages and salaries, which is the basis for the military pay raise, and is used as the basis for the default across-the-board raise for federal employees, per statutory law," Hatton said.
If enacted, an average 5.2% pay raise would mark the largest salary increase federal employees have seen since 1980, when the Carter administration issued a 9.1% average pay increase. But it still falls short of legislation introduced by Democrats in both the House and Senate and favored by federal employee unions that would provide federal workers an average 8.7% raise—a 4.7% across-the-board raise, coupled with an average 4% increase in locality pay.
Unions on Wednesday suggested that while they appreciated the Biden administration continuing to propose sizeable pay increases, they still believe the 8.7% figure is more appropriate, given years of below-average pay increases and recent hikes in inflation. Both plans are likely to receive pushback from congressional Republicans.
"An initial recommendation of an average 5.2% pay raise in 2024, if included in the White House proposal, would be a solid first step in [the debate over federal worker compensation]," said Tony Reardon, national president of the National Treasury Employees Union. "However, NTEU has endorsed the FAIR Act, which provides an average 8.7% pay increase and is the same as the 2023 cost-of-living increase provided for retirees on Social Security. We believe rising costs and previous years of inadequate pay increases warrant the average 8.7% adjustment called for in the FAIR Act."
But NARFE, for its part, was more circumspect about the potentially dueling pay raise plans.
"With the 5.2% average federal pay increase reportedly being proposed for 2024, the Biden administration is demonstrating appreciation for the millions of hardworking public servants who keep the government running day after day," NARFE National President William Schackelford said. "Keeping up with private sector pay growth is essential to maintaining the federal government's ability to recruit and retain a highly qualified and effective workforce. While pay rates for public servants will still trail private-sector rates, a proposed average raise of 5.2% would ensure they will not fall further behind."