Biden's State of the Union Highlights Semiconductor Success and Big Tech Privacy Concerns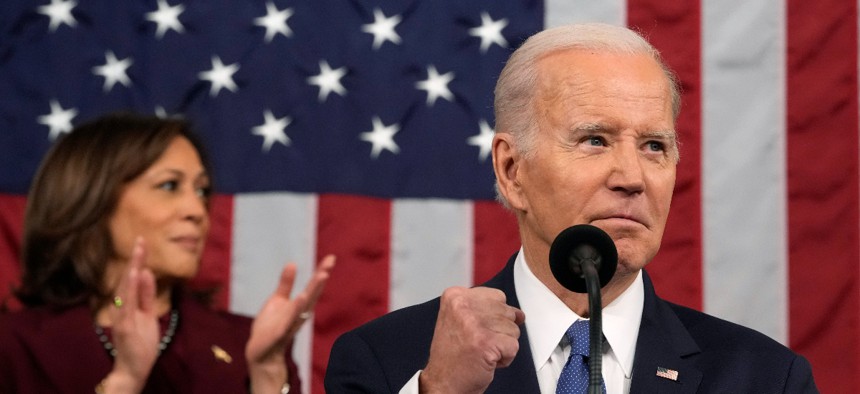 The president applauded the CHIPS and Science Act and urged lawmakers to crack down on big tech's data privacy and surveillance practices.
President Joe Biden addressed the nation Tuesday night, applauding bipartisan tech manufacturing and innovation efforts, while urging Congress to hold Big Tech accountable for its concerning privacy and surveillance practices.
In his second State of the Union address, Biden praised the CHIPS and Science Act passed last year, which provides $52 billion in funding to subsidize semiconductor manufacturing in the U.S. and billions in additional funding for emerging technology research and development. The use of such microchips has proliferated across everyday items like automobiles and smartphones to advanced technologies.
In 1990, the U.S had a 37% market share of semiconductor production, and today that same share has fallen to about 12%. 
"We're making sure the supply chain for America begins in America," Biden said.
For example, since the CHIPS Act was introduced, Intel has invested $43.5 billion in chip manufacturing with two new facilities in Arizona, two in Ohio and advanced packaging technology in New Mexico. The president celebrated the thousands of jobs that would be added from this legislation.
But Biden also looked to rein in Big Tech for its data privacy and surveillance practices. 
The president expressed concern over the platforms' excessive data collection and asked for bipartisan support to bar online targeted advertising for children and teenagers and to put together strong privacy, data, health and online safety protections. He urged lawmakers to impose stricter limits on the companies' use of personal data.
"We must finally hold social media companies accountable for the experiment they are running on our children for profit," Biden said.
The president's remarks come in the wake of the Federal Trade Commission considering broader regulatory practices on online privacy.
Ahead of the address, digital rights group Fight for the Future emphasized the need for privacy laws that go beyond protecting children.
"Allowing companies like Meta and Google to plow full steam ahead with their surveillance advertising business model but with some cosmetic guardrails in place for underage users doesn't actually make the world better or safer for our kids." Fight for the Future Director Evan Greer said. "The best way to protect our kids online is to protect everyone online. We should start by outlawing the harmful and predatory commercial surveillance practices that are at the root of Big Tech's harm." 
Biden additionally called for bipartisan antitrust efforts to "prevent big online platforms from giving their own products an unfair advantage."
The address also applauded recent government advancements in innovation, such as the launch of the Advanced Research Projects Agency for Health, or ARPA-H, to fund advanced research for cancer, Alzheimers and other diseases. So far, Congress has provided $2.5 billion in initial investment.
The president also noted the nation will be "investing in American innovation, in industries that will define the future" and celebrated international collaborations "to protect our advanced technologies so they're not used against us."
Additionally, Biden announced the addition of 500,000 electric vehicle charging stations throughout the country.