VA is Working to Add New Features to its Health and Benefits App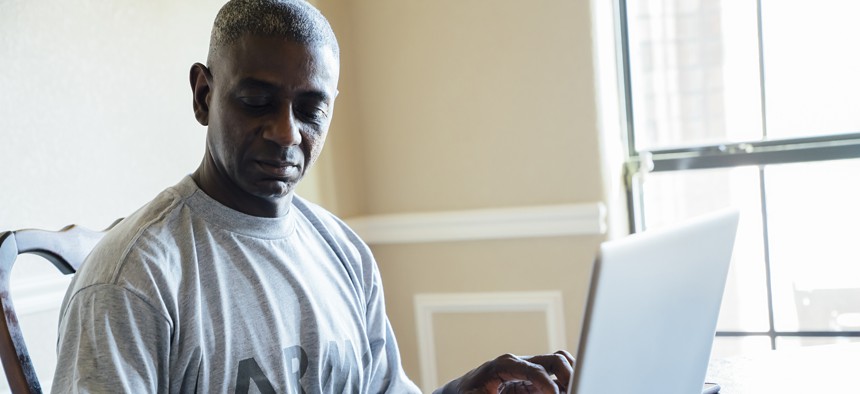 The VA's mobile phone app, which surpassed one million downloads last year, is rolling out new prescription refill and travel reimbursement services for veterans in the coming months.
The Department of Veterans Affairs' mobile application to streamline healthcare visits and benefits information for veterans is evolving after surpassing one million downloads near the end of 2022, according to a VA official. 
Chris Johnston, deputy chief technology officer for digital experience in the VA's Office of Information Technology, told Nextgov that the VA: Health and Benefits App—which launched in July 2021 amid the coronavirus pandemic—has helped veterans more easily access a range of services, offering them the ability to securely message their healthcare providers, check the status of their claims, schedule medical visits and show proof of their veteran status to receive discounts at stores and restaurants. 
Johnston said the app was built with "human-centered design from the beginning of its incarnation," which included close collaboration with veterans to maximize the app's effectiveness. After receiving feedback from veterans and holding research sessions to improve the service's functionality, the VA is working to provide access to even more services through the app over the coming months. 
According to the VA, veterans have used the app to exchange over one million secure messages with their medical providers, to view claim statuses more than 45 million times and to download over 3.3 million documents from the department. And veteran feedback has been largely positive, with the app receiving an average rating of 4.8 out of 5 stars from over 63,000 reviews on the Apple App Store, and an average rating of 4.5 out of 5 stars from almost 18,000 reviews on the Google Play Store.
Johnston said that veteran's largely positive response to the app "tells us that we're getting the tools that veterans need in their hands in the way that they want it and the way that they need it." He said that streamlined access to benefits letters through the app, for example, is proving helpful for veterans who receive disability compensation payments and need to prove their primary source of income when looking to rent an apartment. 
In addition to helping manage and schedule healthcare appointments, Johnston said the app also gives veterans the opportunity to check the statuses of their claims and appeals from their phones, instead of having to call a VA representative or log into the website to access the information.
"We've heard so many anecdotes about veterans planning their days around the best time to call and get their statuses," he said. "And so knowing that they can do that anytime, anywhere on the app is an improvement."
VA has also worked with disability rights advocates, such as the Blinded Veterans Association, to improve the app's accessibility features and ensure improved usability for all veterans. 
"The tenet here is accessibility beyond compliance," Johnston said, citing efforts to ensure that the color contrast on the app's functions are readable for those who may be colorblind, that the app properly functions with a screen reader and that the app's language is as straightforward as possible for users. 
He said that 10-15% of the veterans who participate in VA's app-related research sessions use some form of assistive technology, adding that the goal is to ensure there are at least some disabled veterans represented "in every study that we do."
Johnston added that the app also aligns with a December 2021 executive order from President Joe Biden that sought to enhance the public's access to federal services by improving "the government-to-customer delivery process."
"This is a great indicator that we've tried to do that, and we've had some success there," he said.
Over the coming months, VA also plans to add additional features to the app to build upon the feedback that it has received from veterans. This includes giving veterans the ability to request travel reimbursements for medical appointments, as well as the opportunity to submit prescription refills and refill authorizations through their phones, a feature that Johnston said would be available "within a few weeks." 
"That will allow you to see your prescription list, to request a refill for those that have refills available and to track that refill once it's been dispensed," he added. "So you can see what carrier is sending it and when it's going to arrive." 
VA in recent months has been actively working to recruit high-skilled workers affected by layoffs across the tech sector, and Johnston said that the app's popularity underscores the benefits of bringing in talented tech professionals to provide enhanced services for veterans. This recruitment initiative, spearheaded by VA's Office of Information and Technology, aims to further transform the department's use of innovative technologies and services for veterans moving forward. 
"One of the things that this all demonstrates is that VA in particular—and the government in general—is getting better about delivering technology that works for citizens," Johnston said. "And we are doing that by changing and improving the way that we're hiring and finding people who understand modern software development and product design and development."