Senate Confirms New White House Science and Tech Advisor in Historic Vote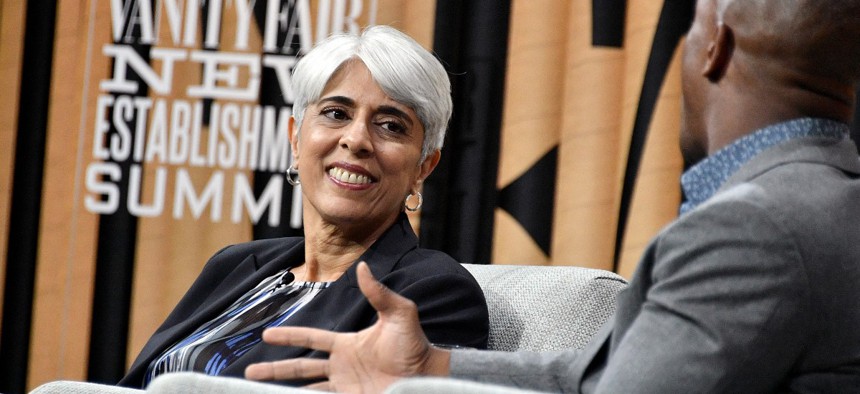 Dr. Arati Prabhakar is the first woman, immigrant or person of color to serve as director of the White House Office of Science and Technology Policy.
The Senate on Thursday voted to confirm Dr. Arati Prabhakar as the next director of the White House Office of Science and Technology Policy, making her the first woman, immigrant or person of color to serve in the position. 
Prabhakar, who previously served as director of the Defense Advanced Research Projects Agency from 2012 to 2017 and as director of the National Institute of Standards and Technology from 1993 to 1997, was confirmed in a 56-40 vote. She was the first woman to serve as NIST director and was unanimously confirmed by the Senate to lead that agency. 
President Joe Biden announced Prabhakar's nomination to serve as OSTP director in June, saying in a statement that she was "a brilliant and highly-respected engineer and applied physicist."
"I share Dr. Prabhakar's belief that America has the most powerful innovation machine the world has ever seen," Biden added. 
OSTP was established by Congress in 1976 to "maximize the benefits of science and technology to advance health, prosperity, security, environmental quality and justice for all Americans." Under Biden, OSTP has worked with the National Security Council to develop the American Pandemic Preparedness Plan and leads the White House's Cancer Moonshot initiative. Alondra Nelson has served as acting OSTP director since February, when former director Eric Lander resigned from the position amid reports that he bullied and mistreated his staff. 
"The historic bipartisan confirmation of Dr. Arati Prabhakar is a testament to her sterling track record of leadership and innovation stewardship, as well as her extensive expertise in science and technology policy," Nelson said in a statement following the Senate's confirmation vote. "We are thrilled to welcome her to OSTP and begin a bright new chapter."
In her role as OSTP director, Prabhakar will also serve as Biden's chief advisor for science and technology and as a co-chair of the President's Council of Advisors on Science and Technology. Prabhakar will also serve on the president's Cabinet, following President Biden's decision in 2021 to make OSTP a Cabinet-level agency. 
The Senate Commerce Committee voted in July to approve Prabhakar's nomination. Sen. Maria Cantwell, D-Wash., who chairs the committee, praised Prabhakar ahead of the full Senate vote, saying in a speech that Prabhakar "will help deliver a message that young women all across America need to be involved in the sciences to help our nation in the next phases of innovation."
"Our nation needs devoted, experienced and exceptional public servants like Dr. Prabhakar to ensure that our research and development investments make America stronger, safer and more competitive," Cantwell added. 
Outside of her federal roles, Prabhakar spent 15 years in Silicon Valley as an executive and venture capitalist, and also founded the nonprofit Actuate in 2019 to use "solutions R&D" to help address challenges related to climate change, data security and personal wellness.