Bill aims to create one disaster recovery assistance application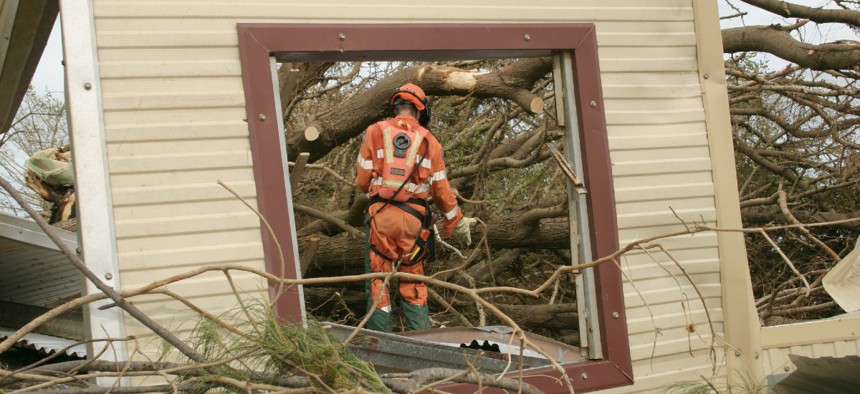 Simplifying the application process would remove the burden on disaster survivors seeking federal assistance in the wake of hurricanes, floods, wildfires and more, lawmakers say.
A bipartisan group of lawmakers has introduced legislation to create a universal application for federal agencies seeking disaster recovery assistance from the Federal Emergency Management Agency, the Small Business Administration, and the Housing and Urban Development and Agriculture departments.
The Disaster Assistance Simplification Act would require the four agencies to establish a single, universal application on disasterassistance.gov for victims in need of federal assistance in the wake of disasters including hurricanes, floods and wildfires.
Sen. Gary Peters (D-Mich.), chairman of the Homeland Security and Governmental Affairs Committee and a co-sponsor of the bill, said in a statement that disaster victims "should not have to go through overwhelming, duplicative application processes when asking for help from the federal government."
He added: "By requiring a universal application for federal disaster recovery assistance, this bipartisan bill will reduce the burden on families and individuals who are seeking federal assistance to rebuild and recover from disasters."
In many cases, disaster victims may not know how or where to access federal assistance immediately after surviving a traumatic event, and numerous programs and applications can make the process of receiving that assistance challenging. 
Recent analysis revealed more than 50% of questions featured on FEMA and SBA disaster recovery assistance application forms were duplicative, according to a Senate Homeland Security and Governmental Affairs Committee press release, which noted how "burdensome applications can overwhelm some survivors" and cause some to give up in their attempts to access federal assistance. 
In a statement sent to FCW, Sen. James Lankford (R-Okla.), a co-sponsor of the bill, said he "consistently heard from disaster victims about how difficult and disjointed the grant application process was in an already burdensome situation."
"This is a government customer service issue we can solve to make it easier for Americans to access the help they need," he said.
FEMA will serve as the lead in establishing the universal disaster assistance application under the legislation, which allows the four agencies to set up information-sharing processes in compliance with federal data security standards to better connect victims to assistance.