Bill Would Create Supply Chain Crisis Office Within Commerce Department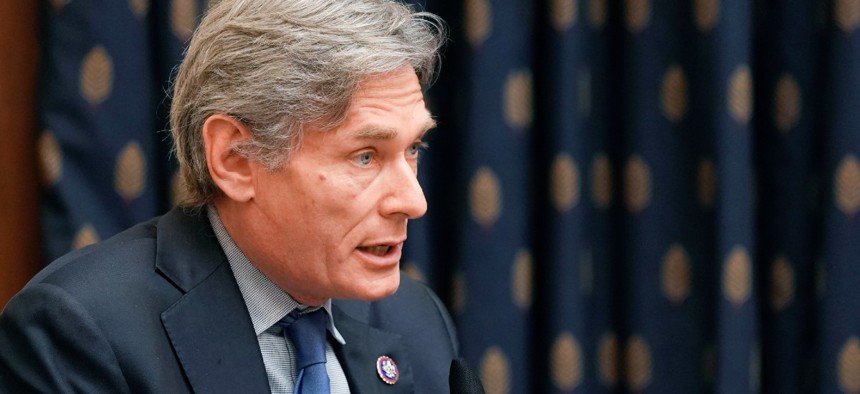 The bill also authorizes tens of billions in grants to support domestic manufacturing.
Bipartisan legislation introduced in the House Wednesday this week would create a Supply Chain Resiliency and Crisis Office within the Commerce Department to address shortages of critical goods and services, industrial equipment and certain manufacturing technologies.
According to Rep. Tom Malinowski, D-N.J., the Building Resilient Supply Chains Act, the bill would solidify U.S. supply chains and spur domestic manufacturing. The legislation would authorize up to $45 billion for the newly-created office to issue grants or loans to support expanded domestic manufacturing.
"We've learned many hard lessons during the pandemic—among them, we should never be dependent on strategic adversaries like China for the goods we need to keep America safe and secure," said Malinowski, a member of House Committees on Foreign Affairs, Transportation and Infrastructure, and Homeland Security,  "Whether it's the PPE that protects us from disease, the chips that power our cars, computers, and cellphones, or the key materials used in electric vehicles and solar panels, we need to shore up our capacity to produce these things here at home—and that's what this bill will enable us to do."
Other sponsors for the bipartisan legislation include Lisa Blunt Rochester, D-Del., and Adam Kinzinger, R-Ill. According to the legislation, the new Commerce office results in part from President Joe Biden's American Jobs Plan and Executive Order 14017 in February. A subsequent review by multiple agencies of critical products, including semiconductors, rare minerals and high-capacity batteries underscored the need for such an office.
"The United States is dealing with unprecedented supply chain challenges, and we must take action," Kinzinger said. "While this marks the first major step in the legislative process, more work lies ahead as we consult with stakeholders and additional experts on how to fortify our supply chains and support our manufacturers. I stand ready to continue serving as a good-faith partner in these efforts and look forward to providing effective solutions to strengthen our national and economic security."
Blunt Rochester added that COVID-19's impact on the economy, including magnifying existing supply chain bottlenecks and issues, should serve as lessons moving forward.
"Chief among those lessons is having a more reliable and sustainable supply chain that rapidly responds to the needs of the American economy," she said. "The bipartisan Building Resilient Supply Chains Act will help expand American capacity to produce the key components for so many of the products we rely on every single day–and in the process, will make our economy more competitive, reliable, and sustainable."