Deputy Defense Secretary Says JEDI Cloud Update Coming Soon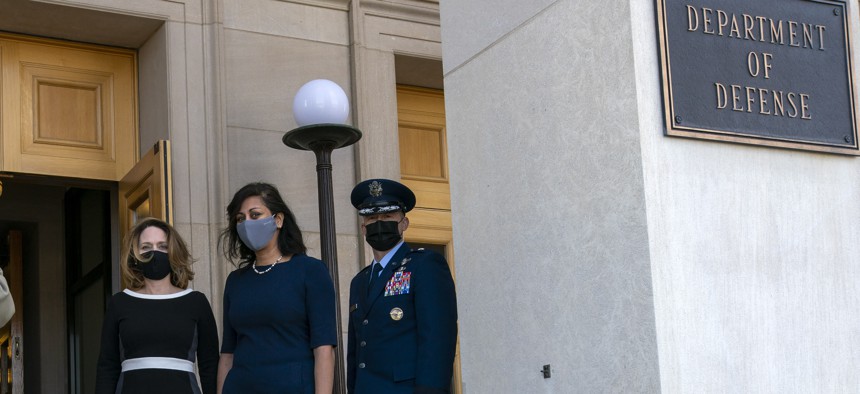 Kathleen Hicks said the department will choose a path forward for enterprise cloud soon.
The second-highest ranking official at the Defense Department suggested the Pentagon will be determining a future for the agency's enterprise cloud effort in the next month as litigation around the Joint Enterprise Defense Infrastructure contract continues. 
Deputy Defense Secretary Kathleen Hicks declined to comment on the ongoing JEDI litigation during Defense One's sixth annual Tech Summit event Monday, but said DOD is currently assessing its options for a way forward to address a persistent need for an enterprise cloud solution. 
"We have a good sense of what our needs are and we're working through what the potential solutions are," Hicks said in conversation with Defense One's Patrick Tucker. "We'll be moving forward … in a direction over the next, you know, month or so, but I'm not going to get into where we might end up."
Hicks also said an enterprise cloud solution is still necessary to support the Pentagon's Joint All-Domain Command and Control, or JADC2, concept, even after years of cloud evolution in the department. JEDI was originally awarded in 2019. JADC2 is a component of the DOD joint warfighting vision; the Pentagon recently announced Defense Secretary Lloyd Austin signed off on a JADC2 strategy. 
JEDI or another arrangement aimed at solving the same problem as JEDI is also needed for the boardroom, Hicks added: an enterprise cloud solution would allow the department greater efficiency for activities like audit, inventory control, and human resources, she said. 
While experts differ on what the right solution for the hole left by JEDI should be, many agree with officials who say a capability that supersedes the individual service-level cloud projects that have grown up over the past few years is needed. A recent survey of Defense IT officials found 75% of respondents said their department is ready to meet their cloud needs even without JEDI, but 80% said there is an urgent need for enterprise cloud at DOD.