What Biden's First Budget Indicates About His Approach to Emerging Tech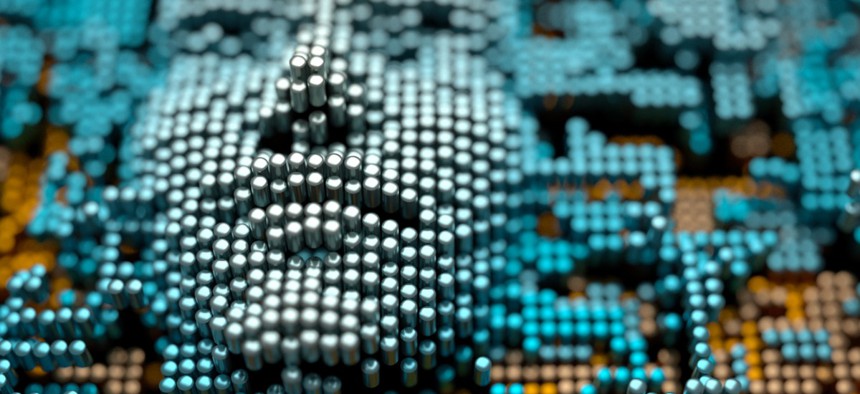 Experts weigh in on the administration's discretionary proposal.
President Joe Biden's $1.5 trillion discretionary budget request leans on research and development and emerging technologies to help solve contemporary challenges related to the planet, health care and security.
"Our country is confronting historic crises of pandemic and economic downturns, climate change and a reckoning of racial injustice. At the same time, we're also inheriting a legacy of chronic underinvestment, in our view, in priorities that are vital to our long-term success and our ability to confront the challenges before us. So the President is focused on reversing this trend and reinvesting in the foundations of our strength," U.S. Press Secretary Jen Psaki said Friday after it was released. "This process provides another opportunity to do that, and so the funding proposals are an indication of our priorities."
Nextgov connected with several professionals on Monday to explore federal technology-pushing inclusions in the 58-page blueprint.
Eyeing Present Problems
Past funding proposals from the Trump administration prioritized some "key emerging technologies" like quantum computing and artificial intelligence, Information Technology and Innovation Foundation President Robert Atkinson explained. Still, the previous president largely moved to cut federal spending, he noted, including efforts supporting research and development. 
Toplines from Biden's first federal funding proposal indicate that the latest administration is largely looking to increase federal spending—with the exception of money toward the Pentagon.
"What is striking about this budget is how little actually is targeted to technological innovation to help us maintain U.S. technology leadership over China, especially in key technologies of the future, such as robotics, quantum and AI," Atkinson said. "A large share of the R&D increases go to studying climate, supporting clean energy, fostering equity, including opportunities for racial minorities, and spurring health innovation."
Biden's request incorporates a call for the establishment of the Advanced Research Projects Agency for Health—or ARPA-H—within the National Institutes of Health. Initially focusing on cancer, and other diseases like diabetes and Alzheimer's, the federal hub "would drive transformational innovation in health research and speed application and implementation of health breakthroughs," OMB Acting Director Shalanda Young wrote in a letter to leaders of the House and Senate Appropriations and Budget Committees. A $9 billion increase over the 2021 enacted level—or in total, $51 billion—would be included for NIH with $6.5 billion of that specifically for standing up ARPA-H.   
And the administration also proposes putting forth $1 billion, collectively, toward the Energy Department's existing Advanced Research Projects Agency-Energy and to form ARPA-C, or the Advanced Research Projects Agency for Climate. The entities will drive future improvements in related research and development areas across multiple agencies, the request said.
Energy's Office of Science would also see a boost, resulting in $7.4 billion to pinpoint and refine "novel materials and concepts for clean energy technologies of the future," advance AI and computing in environmental forecasts, support national laboratory infrastructure—and more. The request also includes an increase to drive innovation in green energy technologies.
"I do think that [the request] does continue the conversation about keeping pace with China. There are sections in there, especially in the Defense Department's section," Bloomberg Government Federal Market Analyst Chris Cornillie told Nextgov. "And that's why the Biden administration is spending so much on AI and quantum and 5G—whether it's explicit or implicit, it's still in there. But definitely the Biden administration is broadening the list of existential questions that its R&D budget seeks to address, and I think climate change is at the very top of that list." 
Via NASA, the budget would improve technologies to help enable the making and use of efficient, next-generation airliners and encourage early-stage space technology research into clean energy. The space agency's Earth Science programs would also see an increase up to $2.3 billion, specifically "to initiate the next generation of Earth-observing satellites to study pressing climate science questions."
Among other inclusions, the request also proposes a $2 billion investment for the National Oceanic and Atmospheric Administration—an approximately $500 million increase over the 2021 level. The funds would support the next generation of satellites to improve forecasting data and inform "the fight against climate change," it noted. Biden also proposes a roughly $500 million increase at the National Science Foundation for climate- and clean energy-related research, moving those funds up to $1.2 billion. 
Cornillie did not speculate on how the Biden administration's inclusions of tech-focused climate change investments measured up to those released during the Obama administration.
"But one thing I will comment on is that perhaps the Biden administration budget is more ambitious, given that Democrats control both chambers of Congress, and given that in the wake of the coronavirus pandemic Congress has really opened up the federal purse strings in order to respond to challenges," he said. "I think that there's a sense under the Biden administration that they can propose these big ticketed spending programs, whereas when there was a divided government under the Obama administration, you had things like sequestration—and you had deficit hawks, which were a much more powerful coalition within the Republican Party."
More Tech-Centered Research, Development and Adoption 
In a move explicitly meant to advance the country's leadership in emerging technologies, the budget would create a new directorate "for technology, innovation, and partnerships" within the NSF "to help translate research into practical applications." Programs in specific, strategic technological areas including artificial intelligence, high-performance computing, quantum information systems, robotics, biotechnology and more would be targeted. 
NSF would also see an increase of $1.6 billion above the 2021 enacted level—a total of $9.4 billion provided to underpin research across computer and information science, engineering, technology and education, among other topics. 
"We were pleased to see the discretionary funding request contain critical increases for federal research agencies—such as the NSF and NIH," John Latini, president of The Science Coalition, told Nextgov. "However, there are a lot of details that still need to be ironed out in the coming weeks and months."
A nonprofit, nonpartisan organization encompassing more than 50 leading public and private universities, the coalition published a report Monday, presenting research into 53 spinoff companies that were created from federally funded university research. Those supported nearly 100,000 jobs between 2015 and 2019.
"We've long known the return on investment when the government robustly and sustainably invests in fundamental research, and this past year has made it all the more clear," Latini said. "Historic funding increases are needed to support the research projects delayed or disrupted because of the pandemic and the 560,000-strong research workforce behind the scenes, and to ensure that the United States continues to be the world's global innovation leader." 
The president's proposal also would provide the National Institute of Standards and Technology with $916 million to launch prize competitions and grow science and technological research across areas including AI, biotechnology, and quantum information. 
"If one believes that the competitiveness challenge with China is the nation's most pressing challenge, as ITIF does, then the most important R&D investments in the budget are the expansions to the NIST budget, followed by the NSF budget," ITIF's Atkinson said. 
Separately, $39 million would be allocated for the National Telecommunications and Information Administration to support broadband- and 5G-aligned research, development and deployment. As for other agencies, Biden's discretionary plan aims to provide $4 billion—$647 million above the 2021 enacted level—for research, education, and outreach programs via the Agriculture Department. The request said it "would advance innovation and the application of science-based and data driven tools to put American technologies into the hands of farmers." In total resources, the Veterans Affairs Department's Office of Information Technology would gain roughly $4.8 billion to "pilot application transformation efforts, support cloud modernization, deliver efficient information technology services, and enhance customer service experience," the request noted. And the request also proposes $599 million in investments at the Homeland Security Department explicitly for research, development and innovation for projects intended to primarily hone in on climate resilience, cybersecurity data analytics and transportation security technologies.
There's also plans mentioned to expand funding for NASA's Space Technology research and development portfolio—bumping it to $1.4 billion, a $325 million increase above 2021. New technologies would be pursued in support of the U.S. exploration to the moon, Mars and deeper into the solar system.
"Overall, I think information technology and research and development are strong growth areas for this budget," Cornillie said.
Uncertainty for Defense 
The discretionary request proposes to dedicate $715 billion to the Defense Department, but details are sparse regarding where that money will flow. 
Defense research, development, testing and evaluation funding will be targeted, according to the document, "to invest in breakthrough technologies that would drive innovation and underpin the development of next-generation defense capabilities."
"On the DOD side, it's going to be the most challenging piece of the budget for the administration," Nate Ashton, Dcode's managing director of public policy told Nextgov. "You've got a lot of people that want to cut the budget, you've got a lot of people that want to increase it, and so the trickiest part of this—really the reason that it got delayed in the first place—is you've got a lot of really difficult decisions to make around that."
Ashton said ensuring technology-driven investments to advance AI, quantum, or other technologies and maintain legacy systems, while also keeping the Pentagon's budget flat, requires some tough choices. He noted that while other, civilian sections of the request mention emerging technologies specifically, the Defense Department's portion doesn't go into much detail, and mostly lists topline items. 
That's due in part because there's a lot left to resolve, he said.
"Everyone in the Defense world is still jockeying to figure out what's going to get cut—you know, what are the signals in terms of where they're going to try to offset money in order to make these tech investments? Are they actually going to be able to do that?" Ashton explained. "It's always a very difficult battle. So I think right now—especially in the Defense world—there's still a lot of uncertainty."
Throughout the request, there are an array of inclusions meant to diversify and grow the American workforce through initiatives spanning many agencies. Personnel training is listed to support those working for the Pentagon. Reports and recommendations that have been released in recent years regarding solutions highlight the need for a tech-savvy talent.
"It's all about the people, right? If you don't have people who know how to buy and use AI, you're not going to get there," Ashton said. "So, I think workforce investment, it's not the most exciting thing to talk about, but I think it's probably the most important investment."
The Big Picture
Biden's full budget is expected to be released later this spring. Heaps of discussions will follow and changes will likely be made.
Still, this initial version does shed light on the new administration's priorities and values. 
"The big picture is that while federal R&D will increase, so will most of the rest of the federal budget. As such, the message the administration is communicating is that it is not really putting R&D related to economic growth and competitiveness as a top priority," according to ITIF's Atkinson. "Climate and equity are the clear top priorities in this budget."
Others see it in a different light.
"High level, the Biden administration wants to position this as 'we are reinvesting in science and technology and we are restoring faith in the federal government as a way to tackle difficult problems,'" Bloomberg Government's Cornillie said. "But overall, I think when you're looking at technologies like artificial intelligence, or quantum information systems, what I'm seeing is a lot of continuity from the previous administration." 
He predicted some of those tech-pushing pursuits could carry on during Biden's tenure.
"Now, whereas the Trump administration was very focused on the Defense and national security side of things—and obviously there was a lot of conversation around the need to keep pace with or preserve technological advantage over countries like China and Russia," Cornillie said, "I think the Biden administration is trying to provide the funding boosts more geared toward the civilian sector."