Federal Agencies Can Require COVID-19 Testing for Employees, CDC Says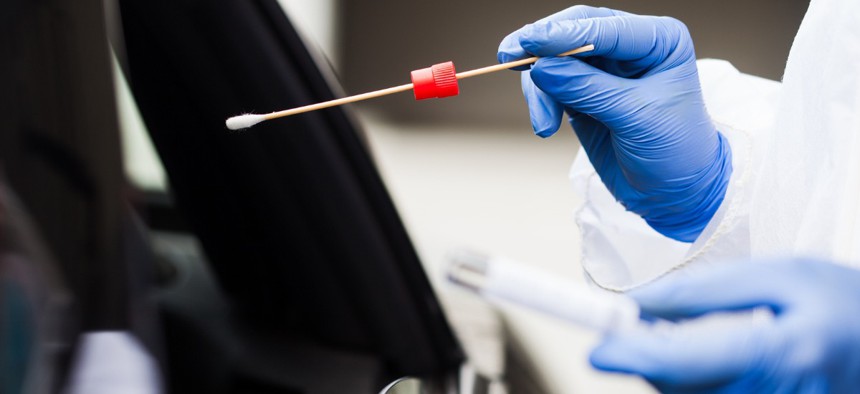 Employees who refuse tests could face "consequences," while those forced to quarantine should be supported, guidelines say.
The Biden administration has issued guidelines for agencies to test their workers for COVID-19, spelling out when widespread testing is appropriate and confirming that federal offices can mandate employee testing. 
Federal employees who have a testing requirement to enter their workplace and refuse can face "consequences," the Centers for Disease Control and Prevention said, though it did not specify what those might look like and said all facets of testing policy were up to individual agencies. CDC issued the guidance in response to an executive order from President Biden, emphasizing it consisted of strategies for agencies to consider rather than policy requirements. 
CDC noted the Americans with Disabilities Act allows for employer-mandated testing of workers if it is "job related and consistent with business necessity," and the Equal Employment Opportunity Commission has deemed it acceptable to make COVID-19 testing a condition to enter a workplace. Agencies must have an employee's consent to administer a test and predetermine any consequences for those who decline. CDC encouraged federal agencies to "consider providing alternatives as feasible and appropriate" for employees who do not agree to tests, such as reassigning them duties that can be completed remotely. 
Agencies have multiple options in pursuing a testing strategy. A less aggressive approach would allow them to only test employees who are showing symptoms or had a known exposure to someone with COVID-19. Agencies should determine in advance where they will send employees for tests, how they will cover costs, their plans for reporting results to local health departments, how they will conduct contact tracing and their modified work plans if an outbreak occurs. Any employee exposed at work should be provided with a test at a convenient time and place and at no personal cost, CDC said. 
Some federal offices should set up screening testing, which would most likely occur at regular intervals and use antigen tests with quicker results. All employees at a workplace with such a strategy, even those without symptoms or exposures, would be subject to the tests. Federal offices should consider the approach if located in areas with high community spread or without easy access to medical care, or if their employees have frequent interaction with the public, physical distancing is difficult, continuity of operations is particularly critical or their workforce is considered high-risk for severe illness from the virus. Agencies establishing onsite testing capacity must receive a waiver from the Food and Drug Administration. 
CDC stressed that any testing strategy should supplement, not replace, existing COVID-19 protocols agencies have in place. The Office of Management and Budget in January issued revised pandemic requirements for agencies, including mask mandates in federal offices and ensuring they not exceed 25% capacity in areas with high community spread. The General Services Administration previously issued guidance for reorganizing federal buildings to make them safer to reopen during the pandemic. A task force Biden created to oversee federal workforce health and safety amid the pandemic instructed agencies to pursue discipline for employees who refuse to wear a mask at their workplaces. 
CDC recommended a broader testing strategy for specific workforces, such as air traffic controllers, those in communal living spaces such as wildfire fighters and those most critical to government operations. It noted the guidance was not intended for feds in health care, long-term care facilities or at prisons or detention centers. It also declined to comment on how to fund agency-issued tests. 
Agencies are responsible for providing their employees information about the tests they are administering, including the manufacturer, the type, the purpose, who is paying for it, how they will receive results and who else will see results. CDC encouraged agencies to provide flexible, non-punitive sick leave and other "supportive policies" for any employees asked to isolate. Agencies should continue to ask screening questions of employees reporting to their workplaces, conduct temperature checks, improve ventilation, require masks and implement physical distancing measures. 
While the guidance did not require any testing by federal agencies, CDC noted one perk of such an approach would be allowing them to reduce employee quarantines below the recommended 14 days. Negative tests after exposure would enable employees to return to work more quickly. 
Hundreds of thousands of federal employees have tested positive for COVID-19, but securing those tests has at times been difficult for agencies or the workers. The Veterans Affairs Department had to walk back a statement last year that any employee who wanted a test could get one after employees across the country disputed it. Like the American public writ large, the federal workforce is increasingly vaccinated against COVID-19. Five federal agencies have received direct allocations of doses to vaccinate their employees—and in some cases to help vaccinate other federal workforces—and the Biden administration recently set up a vaccination site in Maryland specifically for federal employees. While employees at some agencies voiced concerns their agencies struggled to secure them vaccinations, all U.S. adults across the country are now eligible to sign up for a vaccine appointment.