VA Electronic Health Records Program Delayed Up to 12 Weeks For 'Strategic Review'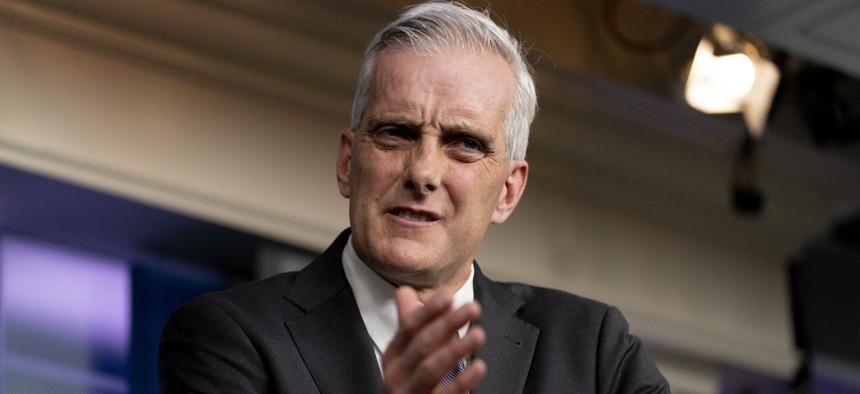 House committee leadership plans to hold a hearing in April on the program and strategic review process. 
The Veterans Affairs Department is pausing its massive electronic health records program rollout for up to three months while the new leadership conducts a "strategic review" of ongoing issues.
VA has been working for more than two years with commercial EHR company Cerner to develop and deploy a single records management system across the agency that will also be interoperable with the Cerner-built system being deployed by the Defense Department and the Leidos Partnership for Defense Health.
Nearly five months after the first deployment of VA's new Cerner Millennium EHR system in Spokane, Washington, future rollouts are being put on hiatus for a 12-week review by VA Secretary Denis McDonough.
"A successful EHR deployment is essential in the delivery of lifetime, world-class health care for our veterans," McDonough said Friday announcing the review period. "After a rigorous review of our most-recent deployment at Mann-Grandstaff VA Medical Center, it is apparent that a strategic review is necessary. VA remains committed to the Cerner Millennium solution, and we must get this right for veterans."
In a release Friday, VA said McDonough did an "initial assessment of the program within his first month in office," prompting a full "strategic review" that will take no longer than 12 weeks.
"The strategic review will focus on identifying areas for additional productivity and clinical workflow optimization at Mann-Grandstaff and upcoming 'go-live' sites, conducting further research into veteran-centered improvements for the patient portal experience, data syndication and revenue cycle improvements," the agency said.
The review comes a little more than a month after the Government Accountability Office recommended pausing the EHR rollout to resolve several critical issues.
"Specifically, 17 critical severity test findings and 361 high severity test findings remained open as of late September 2020," according to an audit released Feb. 11. "As a result, VA was at risk of deploying a system that did not perform as intended and could negatively impact the likelihood of its successful adoption by users if these test findings were not resolved prior to initial deployment."
VA addressed many of these critical issues over time. However, "as the department moves forward with deployment of additional capabilities at new locations, VA will likely identify new critical and high severity test findings," the audit states. "If VA does not close or appropriately address all critical and high severity test findings prior to deploying at future locations, the system may not perform as intended."
The review timeline will likely mean delays and schedule shifts for future rollouts.
The VA Central Ohio Healthcare System in Columbus is still next up for deployment, VA stated, though the rest of the rollout schedule is now in flux.
Congressional leadership on VA oversight committees said Friday they supported the review and will be holding a hearing next month to get more details.
"It is more important for VA to get EHR [modernization] right than to rush it and put veterans' health at risk," House Veterans Affairs Committee Chair Mark Takano, D-Calif., said Friday in a statement. "This strategic review comes at a critical time, and I'm hopeful that it will ensure Secretary McDonough has an opportunity to examine the prior administration's handling of the project and course-correct if necessary."
Frank Mrvan, D-Ind., who chairs the Technology Modernization Subcommittee that will hold the April hearing, echoed that sentiment.
"I'm pleased that Secretary McDonough is calling for a strategic review of VA's Electronic Health Record Modernization project, especially in light of concerns with the implementation in Spokane," Mrvan said. "With veterans' lives and $16 billion on the line, it is critical that this implementation goes smoothly."
A Cerner representative said the company supports the strategic review, as well.
"Our number one priority remains the veterans we serve and delivering solutions that drive the transformation of care across the VA," Brian Sandager, general manager of Cerner Government Services, said in a statement. "We are proud of the significant milestones we have achieved including one of the largest health data migrations in history and the deployment of a new joint Health Information Exchange between DOD, VA and their community partners."
Prior to the first deployment in October, the program had seen a year of delays caused by the need for additional development and training time, the COVID-19 pandemic and a season of wildfires.
"Our dedicated VA professionals continue to work feverishly on this effort even as we maneuver through the complexities and surges of the COVID-19 pandemic," McDonough said.