Thousands of Federal Employees Are Deploying to Support Vaccination Efforts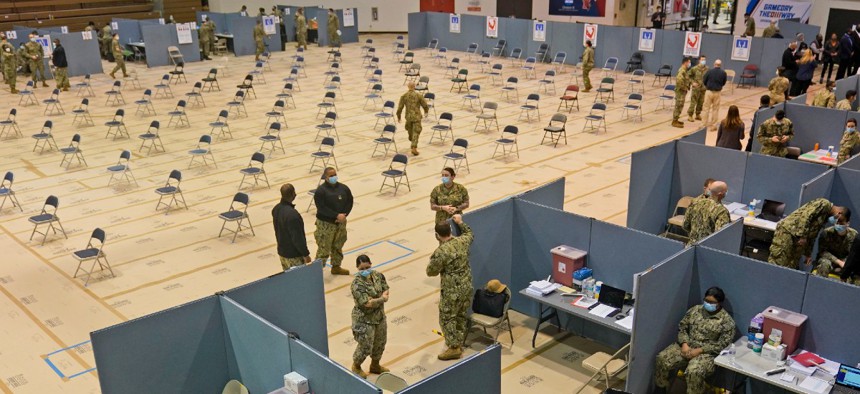 Thousands of federal employees spread across several agencies have deployed across the country to assist in efforts to vaccinate Americans against COVID-19, with more expected to do so in the coming weeks. 
Most of the deployed civilian workers—about 2,000 of them—have come from the Federal Emergency Management Agency, which by the week's end expects to have federally run and staffed Community Vaccination Centers operating in five states. Deployed FEMA staff are also supporting state-run efforts, having helped stand up 450 sites across the country. 
The Homeland Security Department last month also tapped employees from across its workforce for deployments, through its Surge Capacity Force. FEMA can activate those employees, who volunteer for the detail, under an authority Congress granted it after Hurricane Katrina. It previously tapped into the program after Hurricane Sandy, during the 2017 hurricane season and in 2019 as part of President Trump's crackdown at the border. 
The Defense Department sent an initial group of 1,100 active duty troops to five pilot sites last month, a total that has expanded to support new vaccination centers across California, New Jersey, New York and Texas. More teams are expected in Florida, Pennsylvania and the U.S. Virgin Islands this week. The National Guard has sent about 1,200 personnel to more than 400 sites. 
More than 1,100 interagency vaccinators and 1,200 clinical interagency staff have also been deployed to support federal and state efforts, FEMA said. FEMA's newest vaccination center, opened on Tuesday in Philadelphia, can vaccinate 6,000 people per day. The agency has provided a total of more than $4 billion in reimbursements for state and local vaccination efforts, while also sending teams to Texas and Oklahoma to respond to the fallout of winter storms. 
FEMA plans to expand its federally run and operated vaccination centers in the coming weeks, though a spokeswoman for the agency was unable to detail in time for publication the timeline for that expansion or the number of additional deployments the agency is anticipating. 
Federal agencies receiving their own distributions of coronavirus vaccines, including the departments of Defense and Veterans Affairs, as well as the Bureau of Prisons and Indian Health Service, have themselves vaccinated more than 2.6 million individuals. That includes members of their own workforces and their constituencies. BOP has fully vaccinated more than 12,000 employees, while VA has completed inoculations for nearly 235,000 workers. Through its partnership with DHS, it has also fully vaccinated nearly 3,500 Homeland Security staff. FEMA declined to say whether any of its deployed staff were among those who had been vaccinated. 
Federal employees without access to internal agency vaccination disbursements have struggled to get inoculated, even after being told by management they qualified for prioritized access.  
While Defense has begun vaccinations for nearly 700,000 military personnel, civilians, contractors and beneficiaries, the department has struggled to achieve widespread buy in with its voluntary effort. About one-third of Defense personnel have turned down the vaccine, Pentagon officials have said.