Biden Asks Feds Across Government to Volunteer to Assist at the Border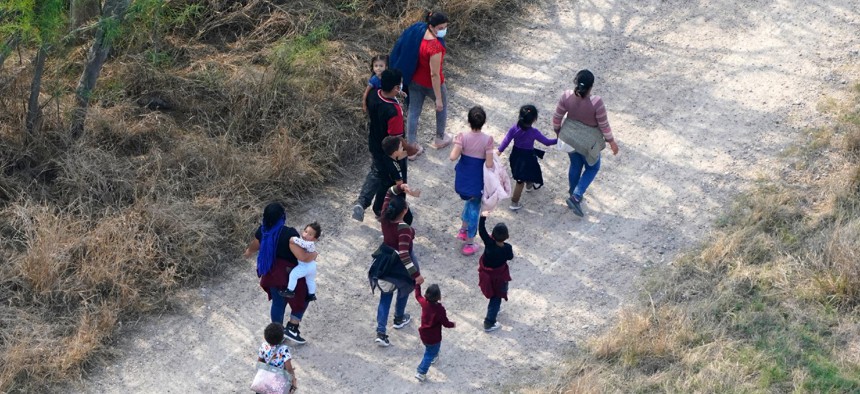 Employees would serve four-month stints and work directly with migrant children.
The Biden administration is calling on federal employees across government to pause their normal job duties to instead assist in processing and caring for the increased number of unaccompanied children arriving at the southern border. 
The employees who volunteer would serve in a four-month detail to the Health and Human Services Department's Office of Refugee Resettlement, according to a solicitation sent out by the Office of Personnel Management. A significant uptick in children arriving at the border has overwhelmed HHS and Homeland Security Department resources and forced the Biden administration to stand up emergency shelters. 
"OPM and HHS are calling upon our federal agency family of exceptional public servants to lend support to this humanitarian effort through this detail opportunity," acting OPM Director Kathleen McGettigan said. 
Unaccompanied immigrant children are typically transferred to HHS custody within 72 hours after Customs and Border Protection personnel detain and process them at the border. But the migrants have remained in emergency shelters in CBP custody for longer periods as agencies have struggled to keep pace with the surge of arrivals. Measures for social distancing at the facilities, put in place to protect the migrants from COVID-19, have further strained capacity. The number of unaccompanied minors encountered by federal border personnel has climbed significantly since Biden took office. Overall border crossings have increased, but the trend predated Biden's arrival and remains below other upticks in recent years. 
President Biden has already deployed the Federal Emergency Management Agency to the border to assist with the growing number of arrivals, but HHS still requires additional staffing. OPM said employees volunteering for the detail would deploy to facilities in Dallas, San Diego, San Antonio and Fort Bliss, with more facilities accepting the detailees as necessary. The employees would work directly with migrant children in conjunction with HHS, CBP and non-governmental staff. OPM and HHS are so far seeking about 1,000 employees to volunteer for the roles, according to an administration official. 
McGettigan asked agencies to proactively encourage supervisors to allow their employees to volunteer for the detail. Agencies would receive full reimbursement for all costs associated with detailing their workers and employees would receive travel, lodging and per diems through HHS. 
The detail request marks the second such opportunity for federal employees to deploy to the border in recent years. The Trump administration also sought volunteers throughout government to address a surge in migrants in 2019, though those workers assisted with DHS and the Border Patrol rather than HHS.