Customs and Border Protection Behind on Deploying Border Surveillance Tech, DHS OIG Finds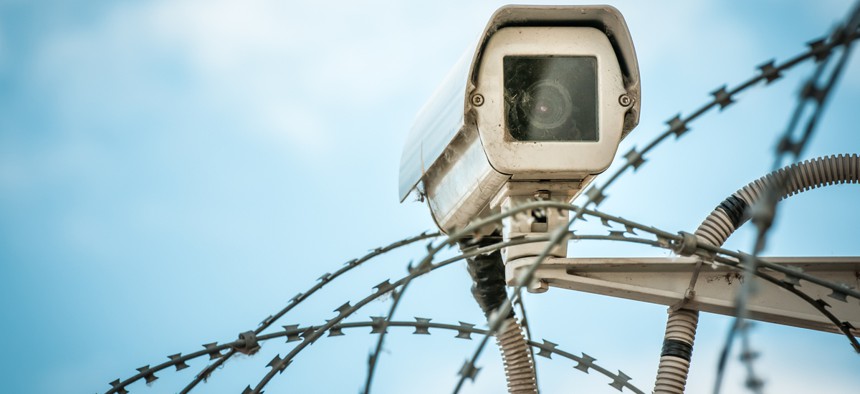 But President Joe Biden's new immigration bill calls for more "smart technology" at the border.
Customs and Border Protection has deployed just 28% of its planned border technologies—despite receiving more than $743 million to do so since 2017, according to a recent audit. 
The Homeland Security Department's Office of Inspector General report concludes that in addition to issues like a lack of available technology solutions and security vulnerabilities in servers and workstations, CBP is "not well-equipped to assess its technology effectiveness to respond to these deficiencies." The audit was released Feb. 23, shortly after President Joe Biden's immigration bill—which calls for deployment of "smart technologies" at the border—was introduced into Congress. 
Since 2017, CBP has worked on implementing border technologies such as integrated fixed towers for surveillance of remote areas, remote and mobile video surveillance systems, and small drones for aerial surveillance. The agency and U.S. Border Patrol also initiated modernization efforts to improve border security IT systems, infrastructure and equipment. 
But "planned deployments of surveillance systems, infrastructure upgrades, and subterranean technology solutions were incomplete or behind schedule due to border wall construction delays, challenges identifying subterranean technology solutions, funding constraints, and shifting operational priorities," the audit reads. 
The development of underground sensing technologies has gained greater importance because the new border wall built during the Trump administration may lead to an increase in tunneling activities. But due in large part to lack of commercial use cases, underground sensing technology has been slow to develop, and even mature technology still has to be specialized to meet CBP's needs. 
In the meantime, surveillance technologies already in use have degraded, according to the audit. 
"For instance, CBP's License Plate Reader program alerts checkpoints of incidents involving vehicles," the audit reads. "However, limited bandwidth at checkpoint stations slowed information relay, and Border Patrol missed stolen vehicles that passed through checkpoints before on-site agents received alert notifications. More concerning, much of Border Patrol's existing field technology has exceeded its useful life and has suffered from degraded performance and supportability."
Agency officials reported technology updates were impeded by lack of adequate funding, despite the millions of dollars set aside for border technology since 2017. Border Patrol officials also said they don't have enough people to actually utilize all the available surveillance systems. For example, agents couldn't always respond to alerts from surveillance towers because they were busy conducting other tasks. 
Auditors also found security vulnerabilities in CBP's technology systems. DHS is establishing departmentwide guidelines for information systems control, but while those are being developed, DHS components are meant to use existing standards such as the Defense Information Systems Agency's Security Technical Implementation Guides. But standards were not properly implemented, and OIG found "237 instances of 47 unique critical and high severity patch-related vulnerabilities."
Moreover, CBP has no way of knowing how effective its border technologies are. The agency doesn't have a standard process for evaluating technology effectiveness. Most critically for the Biden administration's border technology plans, auditors concluded CBP can't plan effectively for future investments. 
"In FY 2021, for example, CBP expects to spend $28 million to deploy 30 innovative towers, but the component has no process in place to assess the effectiveness of this and other planned technology systems to support current mission operations," the audit reads. "As such, CBP is at risk of investing hundreds of millions of dollars in less effective solutions, or deploying technology assets to less optimal field locations."
While the new bill, called the U.S. Citizenship Act of 2021, doesn't specify what kinds of surveillance technologies DHS should pursue, enhanced situational awareness is the primary goal. But not only does the DHS audit show CBP's existing technology isn't providing full situational awareness, privacy and immigration groups argue enhancement of surveillance technologies at the border "is a continuation of the Trump administration's racist border policies, not a break from it." 
That's according to a Feb. 25 letter from 40 groups including Just Futures Law, Mijente, and the Electronic Privacy Information Center. 
"We applaud President Biden's efforts to halt Trump's border wall construction and provide relief to immigrant communities, but protection from deportation and access to due process should not come at the cost of militarization and surveillance," the letter reads. 

CBP has made progress on three OIG recommendations—to update its border tech plan, implement tech assessment processes, and ensure patch and configuration management controls for IT systems comply with DHS requirements—OIG is leaving each recommendation open until CBP provides documentary evidence that all corrective actions have taken place.