HHS to Start Testing Your Poop for COVID-19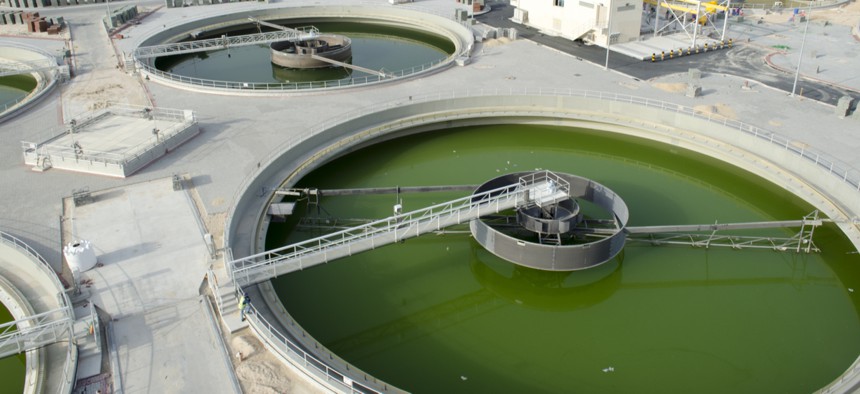 Testing will cover approximately 10% of Americans within the next eight weeks, with an option to expand that to 30% within another nine weeks.
As the COVID-19 pandemic rages on—with more than 7 million cases and 200,000 dead Americans as of September 25—the federal government is looking for a new way to track cases and get ahead of new outbreaks: America's sewage.
On Thursday, the Health and Human Services Department released a solicitation for wastewater testing and data analysis that would have a contractor testing fecal and other sewage waste for approximately 10% of Americans within eight weeks.
"The contractor shall support wide-scale and regular testing of the American population for COVID-19 using wastewater epidemiology to help guide the overall reopening strategy, but also serve as an early warning system for local re-emergence events to enable rapid containment," the solicitation states.
Previous research has shown the ability to predict new COVID-19 cases five to 11 days before the outbreak occurs by analyzing wastewater—specifically sewage from residential toilets.
"Wastewater testing data provided by the contractor will illustrate a more complete picture of local, community-level COVID-19 trends, where clinical cases may be underreported and transmission levels not well understood," the solicitation states. "This can be particularly helpful for communities with limited testing access, or for communities in which demand for testing remains low for other reasons."
The idea has shown promise, including at the University of Arizona, where wastewater testing at the dorms was able to preempt a potential COVID-19 outbreak at the school.
Now, the HHS Office of the Chief Information Officer is leading an effort to collect wastewater data and identify trends related to COVID-19 cases. The information will be incorporated into the HHS Protect Program, a data sharing hub used to disseminate critical health data during pandemics and other health crises.
Under the terms of the contract, the vendor will be tasked with collecting wastewater from select communities, testing those samples, and compiling and analyzing the data before "securely transferring the derived data into the HHS Protect system in a JSON format."
The CIO will also give direction on the number of samples to be taken and frequency of tests for each community.
The specific communities—and the authority to collect samples from those communities—will be determined by HHS.
As the program scales, the contractor will be expected to support collection and testing across 42 states, covering more than 10% of the population.
The contract will have a base period of eight weeks, from September 30 through November 25, with an option to extend the engagement an additional nine weeks through January 27, 2021. However, due to the nature of the prolonged pandemic, HHS officials aren't sure how long they will need this contract to be viable.
"Therefore, the period of performance for COVID-19 supplies and services will vary from immediate to longer term support but is not to exceed 12 months," according to an other-than-full-and-open-competition justification document.
That said, the CIO offered an early timeline for the testing program: ramping up testing and establishing data transfer protocols within the first two weeks, then expanding to test approximately 36 million people through about 100 wastewater treatment facilities within six weeks—accounting for about 10% of the U.S. population.
If successful, the contract includes a second task: expanding testing to 100 million people at 320 facilities, covering about 30% of the population. If this option is picked up, the contractor would be expected to hit that milestone within nine weeks.
The resulting data will be the sole property of HHS, according to the performance work statement.
"Under no circumstances may contractor use these samples, or any data generated with, by, or from these samples, for purposes not explicitly described in this contract or without prior written approval from HHS," the document states. "Examples of prohibited uses include, but are not limited to, testing of wastewater samples collected pursuant to this contract other than as provided for in this contract, inclusion in research publications, data sharing with other public or private entities, or incorporation into marketing materials."
Any misuse or unauthorized disclosure must be reported to HHS within 24 hours. A cyberattack or other kind of data breach must be reported to the HHS Incident Response Team within one hour.
Editor's Note: This story has been edited to include an updated timeline from HHS extending the first phase from six weeks to eight weeks.