GAO: More Than Half of COVID-19 Government Contracts Not Competitively Awarded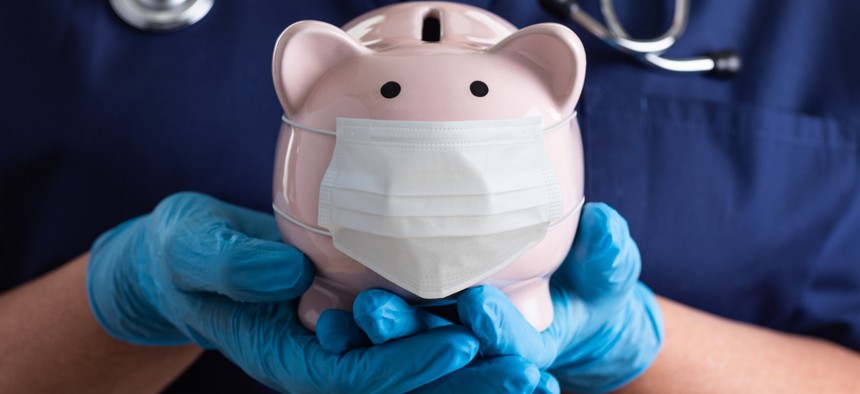 While some of that spending went through existing IDIQs, some $7.7 billion in new contracts were awarded "using the unusual and compelling urgency exception."
The ongoing COVID-19 pandemic has led to a surge of spending among federal agencies, particularly those with health and emergency response missions. As of June 11, agencies spent upward of $17.8 billion, much of which was not awarded through full and open competition.
Auditors at the Government Accountability Office did a deep dive into Federal Procurement Data System-Next Generation, searching for all contract obligations tagged with the COVID-19 National Interest Action code, as well as any awards containing the terms "coronavirus" and "COVID-19" in the contract description. In order to focus specifically on the pandemic response, "For contract actions over $1 million, we removed obligations that were identified in the contract description as not related to COVID-19," according to a report published Wednesday.
Four agencies constituted 85% of spending governmentwide. Not surprisingly, about half of total spending—just shy of $9 billion—came from the Health and Human Services Department.
Also not surprising, the Defense Department—the perennial largest spender in government—had the second-largest spending total, with almost $3 billion obligated. The Homeland Security Department—$1.7 billion—and Veterans Affairs Department—$1.5 billion—round out the top four.
The remaining 38 agencies GAO reviewed totaled $2.6 billion.
The bulk of spending went toward medical and surgical equipment, including ventilators, respirators and personal protective equipment for health care workers. A much smaller but not inconsiderable amount—$2.1 billion—was put toward research and development of a vaccine to prevent future spread of the disease.
The report notes about $513 million was spent on "financial management support services," $500 million of which was used by the Small Business Administration for "data analysis and loan recommendation services."
But of the nearly $18 billion spent as of mid-June, more than half—53%—were not competitively awarded.
"Our prior work has emphasized that competition is a cornerstone of the acquisition system, and that promoting competition in federal contracting presents the opportunity for significant cost savings, among other benefits," GAO wrote. "However, contracting during an emergency or disaster can present unique circumstances in which to solicit, award, and administer contracts."
During such times, agencies often default to using existing indefinite-delivery, indefinite-quantity contracts, or IDIQs, that offer a range of contractors without requiring a new competition. The GAO report notes use of these contracts during emergency situations is considered best practice by the Federal Emergency Management Agency.
However, GAO's research showed only $6.1 billion spent as of June 11 flowed through existing contracts. The remaining $11.7 billion "were associated with new contracts."
Further, only 34% of obligations awarded through new contracts were competed, accounting for about $4 billion. The remaining $7.7 billion was awarded directly to chosen vendors "using the unusual and compelling urgency exception to full and open competition," the report states.
At the same time, agencies using preexisting contracts still held a limited competition among those vendors for about 72% of obligations.
GAO also looked at the vendors receiving awards. Of the 6,200 companies with contract actions related to COVID-19, 10 vendors received one-third of total spending—about $5.6 billion.
Approximately $5.1 billion—or 29% of total spending—went to small businesses. GAO notes surpasses the governmentwide goal of 25% utilization of small businesses.
GAO auditors made no recommendations in the report.