VA, CFPB Solicit Partners to Conduct Diversity-Focused Training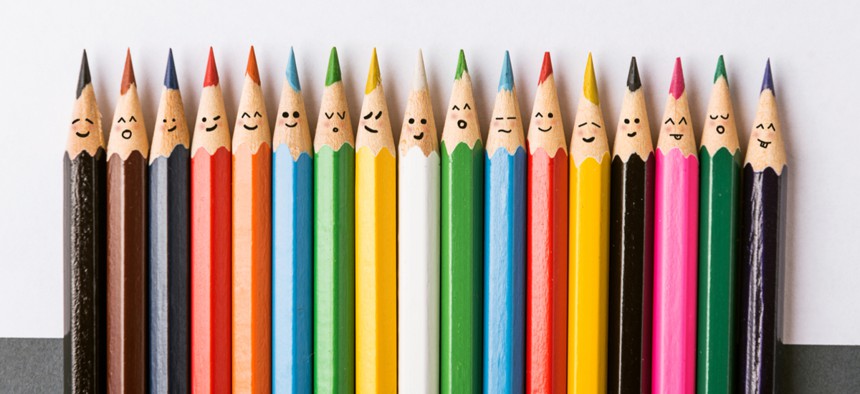 Several solicitations have been launched for inclusivity-centered services in recent weeks.
As peaceful protests sparked by George Floyd's death in police custody continue in cities across the nation and companies increasingly commit to confronting and combating racism within their organizations, at least two federal agencies are looking to garner diversity-focused insights and training. 
The Consumer Financial Protection Bureau on Monday solicited contractors to lead a diversity and inclusion training across in-person and virtual modalities, and the Veterans Affairs Department also recently released opportunities for an instructor-led diversity training for its Dublin, Georgia-based medical center and for diversity, equity and inclusion-focused consulting services for a psychology section within its San Francisco VA Health Care System.
Tasked with ensuring that America's financial institutions are fair to its citizens, the CFPB has an Office of Minority and Women Inclusion that is responsible for setting standards regarding equal employment opportunities, and promoting racial, ethnic, and gender diversity across the agency's senior management and personnel at-large. According to the agency's solicitation, the diversity and inclusion training it's looking to contract will support "managers and non-supervisory employees in developing and enhancing competencies in fostering a diverse and inclusive workplace so that employees can have the skills needed to create relevant solutions for consumers from all backgrounds." 
The agency is looking for a contractor to supply resources across two task areas, which envelop in-person and online training courses, as well as specific e-learning services. 
CFPB noted that it is open to "one or more" contractors to support the effort, and on top of boosting manager's capabilities in the realm of diversity, the agency also hopes to help its non-supervisory employees "develop and strengthen competencies for interacting effectively in a diverse and inclusive workplace." In terms of content included in the training, the bureau offered a sample list highlighting topics it's looking for new insights on, such as fostering inclusive teams, communicating across generational differences, working out disagreements and conflicts in diverse teams, and more. 
"Both groups of CFPB staff have had training to increase awareness and understanding, this next level training is intended to focus on skills building and application to the workplace," officials from the agency noted. 
Potential partners interested in contributing to the effort are invited to respond to CFPB by June 29. 
The Veterans Affairs Department's Carl Vinson VA Medical Center in Georgia also recently released a sources sought opportunity for diversity and inclusion cultural awareness training. Submissions were accepted quickly—opening May 28 with responses due June 3. 
According to the document, the CVVAMC aims to "offer employees high-quality training that equips them with the tools to provide equitable, knowledgeable, and welcoming care for LGBT patients and their families." To that effect, the agency asks for an instructor to lead training activities and provide course materials across a range of topics, including creating a welcoming and inclusive environment, collecting sexual orientation and gender identity data, applying conflict resolution and tools, and more. The center also notes its hope that, by the end of it, "participants will be able to understand how identities shape the way we view ourselves and others, [learn] how bias influences healthcare quality, access, and outcomes, [and] develop techniques to reduce bias, improve interactions, and elevate care delivery."
On Tuesday, the San Francisco VA Health Care System made its own diversity-focused request, calling for comprehensive consulting services for its federally-employed psychologists. 
"To improve the diversity, equity and inclusion (DEI) of the psychology section of the Mental Health Service, [a to-be-chosen] contractor will conduct a highly specialized assessment, provide a staff retreat based on the results, and conduct a post-retreat progress review concluding with further highly specialized recommendations and an implementation plan for these," officials wrote in the solicitation. 
The agency lays out a range of expectations regarding the potential vendor. Some include that they be based "local and not have to travel from a distance, because [the] budget does not allow for travel, travel is not indicated during the national pandemic, and local facilitators would be more aware of local DEI issues," that they can conduct retreats virtually, over video-conference given current restrictions on gatherings and "do all the work themselves rather than through a subcontractor, as it is essential for [the] psychology staff to build a trusting relationship over the course of the project with the vendor in order to discuss delicate DEI matters candidly, and this would be impossible to do if each phase was carried out by a different person or organization."
The deadline for submissions from interested participants is June 22.
While CFPB and VA are looking into launching diversity-focused training, the National Institutes of Health's National Cancer Institute also recently asked for insights from potential contractors that could run the coaching component of its Diversity Career Development Program.