Senators Push for $26 Billion in the Next Stimulus Package to Support U.S. Researchers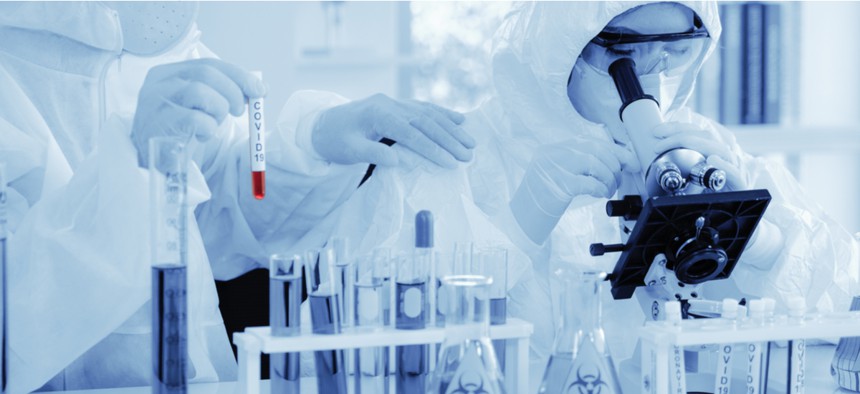 The growing group hopes to help address the pandemic-induced challenges that research universities, academic medical centers, national labs and others are facing.
More than 30 senators teamed up this week to jointly request the inclusion of $26 billion in emergency relief funding for the nation's scientific research workforce in the next coronavirus stimulus package.
Sens. Ed Markey, D-Mass., and Thom Tillis, R-N.C., and dozens of others penned a letter to Senate Majority Leader Mitch McConnell and Minority Leader Chuck Schumer Monday urging new protections and additional support for the U.S. research and science community in the fourth coronavirus relief package. By Tuesday, more lawmakers expressed their support. 
"Although COVID-19-related research is now in overdrive, most other research has slowed or stopped due to closures of campuses and laboratories," the lawmakers wrote. "We are deeply concerned that the people who comprise the research workforce—graduate students, postdocs, principal investigators, and technical support staff—face financial and other hardships from the cessation of their research activities." 
In their correspondence, the senators lay out a range of ways the billions they're calling for can be put to use. First, they aim to help cover supplements for research grants and contracts caused by COVID-19 global health crises. These would include "additional salary support and/or research related ramp-up costs," the lawmakers note. The funding will also provide emergency financial relief to help sustain research support personnel and facility operating costs until the work can return to a more pre-pandemic version of normal. Finally, for up to two years the lawmakers also aim for the funding to support additional graduate student and postdoc fellowships, traineeships, and research assistantships.
"Graduate students who could not complete their degrees due to the pandemic should be given priority for graduate fellowships and other forms of support so they can complete their research and degrees," the lawmakers write.
They emphasize that Congress must act swiftly because, "in the current environment, researchers face myriad problems." Many research facilities and bases sit idle, the senators said, and a large number of researchers and scientists are unable to make progress on their grants or funded efforts. Further, they'll likely need additional supplies and salary coverage once social-distancing orders come to an end, and people are allowed to return to their research efforts in person. 
"Research universities, academic medical centers, and national labs are major employers in all 50 states, and protecting the research workforce is critical to state economies," the senators wrote. "Congress must act to preserve our current scientific workforce and ensure that the U.S. is prepared to continue our global scientific leadership once this crisis ends."
According to Markey's announcement, dozens of organizations endorsed the effort, including the American Association for Cancer Research, Association of American Universities, American Chemical Society and at least 20 more.