CBP Intercepts First Package of Counterfeit COVID-19 Test Kits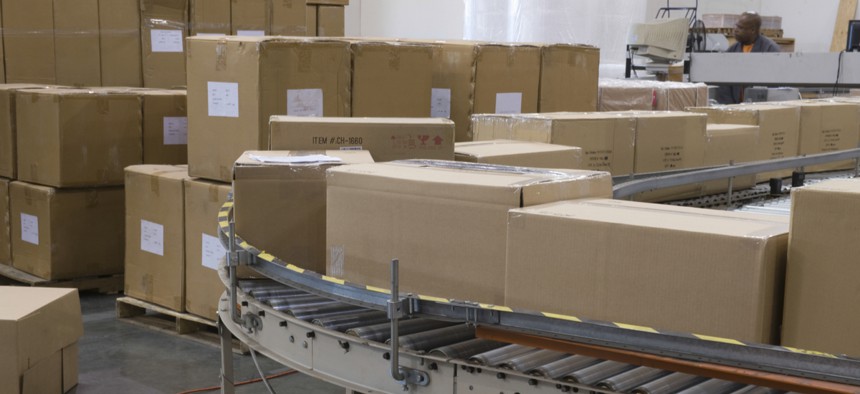 U.S. Customs and Border Protection officers seized a package filled with fake COVID-19 test kits late last week—marking the agency's first interception of counterfeit goods connected to the novel coronavirus outbreak, an official confirmed to Nextgov Thursday. 
While conducting an enforcement examination of "a parcel manifested as 'Purified Water Vials' with a declared value of $196.81" that'd recently arrived from the United Kingdom, CBP officers assigned to the Los Angeles International Airport International Mail Facility on March 12 apparently realized something was awry. 
"A complete examination of the shipment, led to the finding of vials filled with a white liquid and labeled 'Corona Virus 2019nconv (COVID-19)' and 'Virus1 Test Kit,'" officials wrote in the announcement. "The shipment was turned over to the U.S. Food and Drug Administration for analysis."
Though an official from CBP's public affairs office told Nextgov that the incident was the first COVID-19 related counterfeit finding by the agency so far, they would not confirm if it was the only counterfeit finding the agency intercepted related to the pandemic. 
"Additional details can't be disclosed due to law enforcement sensitivities," the official said. 
The facility's mission, they noted, is to ultimately ensure that all international mail parcels arriving from 180 countries comply with federal laws and regulations—and to also detect, intercept and seize illicit shipments. "LAX IMF is a 40,000 square feet federal inspection facility," the official said, before adding that, there, "millions of packages are inspected every year."
Some of the "regular seized items" that officers confiscate, they explained, include a wide range illegal, prescription and synthetic drugs, diet pills, counterfeit Viagra, herbal supplements, foreign cigarettes, lottery scams, counterfeit products, fake airbags, sports paraphernalia, watches, handbags, consumer electronics, endangered animal and plant species, prohibited food items and prohibited lasers.
The facility is equipped with technology that supports officers in their detection work. The official noted that upon arrival in America, all international parcels are screened for radiological threats, and all those presented to CBP for examination are subjected to non-intrusive inspections, which include x-ray and gamma-ray imaging. Though they would not confirm if officers received any special training on how to spot counterfeit goods in relation to the novel coronavirus outbreak, the official said CBP works closely with trademark holders, local, state and federal law enforcement partners to support employees in grasping how to identify incoming items that might pose a risk. Further, the FDA also has personnel onsite for times like last week, when CBP officers intercept health-related parcels. 
"This enhances efficiency of information sharing and operational coordination to address the challenges and threats posed by illicit medical products," the official said.
CBP did not say whether anyone was apprehended in relation to the matter, but the official made it a point to note that e-commerce has produced a global market for goods sold online and, in recent years, officers on the frontlines have "seen an exponential growth in the volume of parcels arriving for inspection." At the same time, many people who receive the foreign-bought items do not fully recognize that "when you buy goods from foreign sources, you become the importer."
"There are specific rules and regulations that govern the act of importing—and they can be extremely complex and confusing—and costly," the official said. "Importing goods that are unsafe, that fail to meet health code requirements, or that violate quota restrictions could end up costing you quite a bit of money in fines and penalties. At the very least, such goods would be detained, and possibly destroyed, by CBP."