Russia Plans to Cut Off Some Internet Access Next Week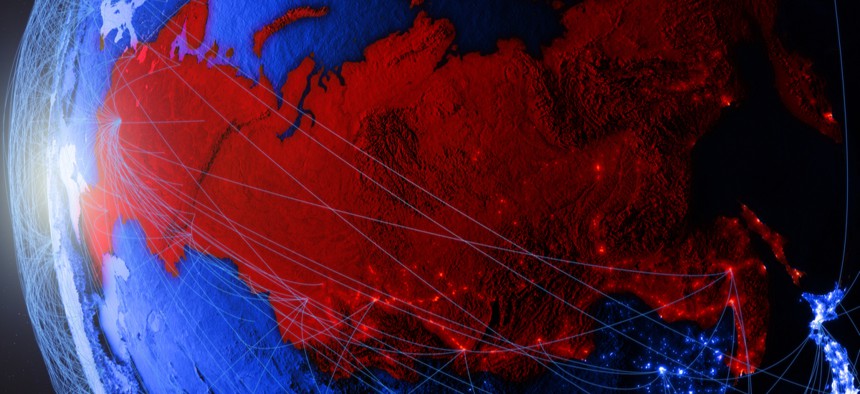 The Dec. 23 test aims to evaluate a system meant to control traffic, veil hackers, and quash dissent.
Russia will temporarily shut off many of its citizens' access to the global Internet two days before Christmas in a test of its controversial RuNet program, according to an internal government document. RuNet aims to boost the government's ability to better control internal digital traffic, launch cyber and information attacks against other nations, and track and censor dissidents.
The test will evaluate "the possibility of intercepting subscriber traffic and revealing information about the subscriber, blocking communication services," according to a Dec. 5 document produced by Russia's Ministry of Digital Development, Communications, and Mass Media. The document said the test was originally slated to take place on Dec. 19 but had been rescheduled for Dec. 23. (The documents were verified by the site Open Media.)
On Wednesday, the document was posted to a popular Russian-language Telegram channel on IT issues. It was later confirmed as authentic by Andrei Polyakov, a spokesman for Rostelecom, the country's leading long-distance telecom company. 
The Russian government gave itself the legal right to filter Russians' access to the global internet in April, when it passed the Sovereign Internet Law requiring foreign digital traffic to pass through government chokepoints. The law drew fire from various citizens-rights groups, including Human Rights Watch, which noted that "blocking would result from direct interaction between the government and the ISP and that it will be extrajudicial and nontransparent. The public would not know what has been blocked and why."
RuNet is one of several government IT efforts intended, as Russian leader Vladimir Putin puts it, to fortify the country against information attacks from abroad. "President Putin and his government have already mentioned that the 'global [Internet] network is controlled from abroad.' Therefore, this RuNet test is aimed  — according to the Russian government — at making sure that key internet nodes are under Russian government control should a crisis develop," said Samuel Bendett, an adviser at the CNA Corporation and a fellow in Russia studies at the American Foreign Policy Council. 
Justin Sherman, cybersecurity policy fellow at New America, noted that a broad RuNet test had also been rumored in October and November. 
"That said, we've also seen signs over the past few months that the Russians have in fact been working—slowly but surely—to execute on Moscow's vision for a domestic internet that can be cut off from the world at will," Sherman said. 
A successful test would raise "concerns about the fragmentation of a global and open internet, and what this may signal to other countries. If Russia were to even semi-successfully isolate its domestic internet from the rest of the world, that could undoubtedly inspire some other countries—those desiring more authoritarian forms of internet control—to follow in Moscow's footsteps," according to Sherman.
Indeed, more and more governments are taking steps to block communications and dissent. In November, Iran suspended all internet activity within its borders to thwart fuel protests. India has taken similar steps in Kashmir. These total bans are unsustainable in a modern economy. With RuNet, Russia aims to create a more flexible barrier that allows e-commerce and speech to continue entirely on the Kremlin's terms.
A potentially bigger concern is that Russia's new intranet will provide cover for hackers to attack other governments, academics, think tanks, and even the U.S. military. "There's always the risk that perceived insulation from online vulnerability, through closing off one's internet, lowers disincentives for one to ramp up disruptive activities on the rest of the web. The effects would not likely not be confined to Russian borders," said Sherman.