How Wearables Could Help NIH Fight Cancer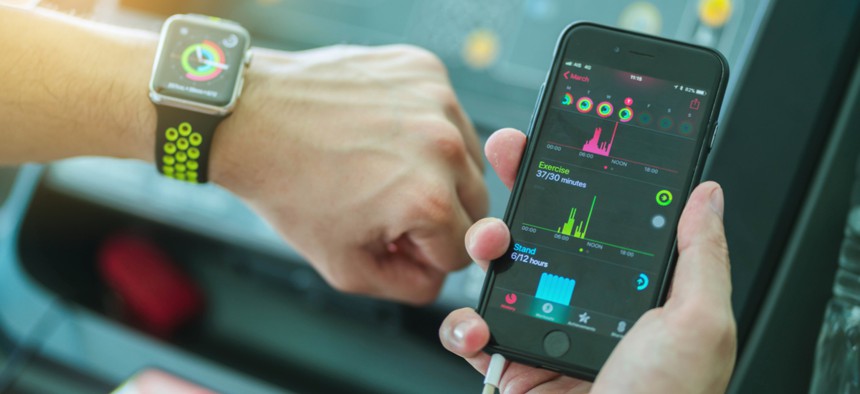 The agency aims to better monitor and personalize treatments for chronic conditions using the health data the gadgets collect.
Every second of the day, companies use our personal information to customize the way we experience the world. Our online activity influences the products we're sold, the news we consume and the social networks we build.
And soon, doctors might use our data to improve the care we receive.
The National Institutes of Health on Thursday awarded a $225,000 contract to Litmus Health to build a platform to capture and manage data from wearable devices like Fitbits and smartwatches. The hope is that analyzing a constant stream of health information from these devices could help doctors more effectively manage chronic illness and tailor treatments to fit the individual.
Doctors have used personal data to treat chronic conditions for decades through patient surveys and self-reports. But self-reported information isn't the most reliable, and even if it were, it still only provides a snapshot of how patients are doing when they come in for a checkup, said Litmus Health co-founder and Chief Medical Officer Sam Volchenboum.
"In reality, most of [people's] medical record occurs when they're not seeing [a doctor]," Volchenboum told Nextgov. Many in the health care community see wearables as a way to fill in the blanks.
"Having devices like this connected to the patient in real time gives you this continuous look into how the patient is doing," Volchenboum said. "I think that really will change the way we think about health care. We'[re] transition[ing] from this sort of 'care of the sick' to 'maintenance of the well.'"
The company's platform will specifically assist the National Cancer Institute in monitoring patients, informing treatment decisions and designing clinical trials, according to the solicitation. Most don't think of cancer as a chronic condition, but modern medicine has raised both remission rates and overall life expectancy to the point where doctors are often monitoring patients for years, even decades, after their initial diagnosis, Litmus Health co-founder and Chief Executive Officer Daphne Kis told Nextgov.
The recent funding will help the group connect new wearable devices to its existing platform and build artificial intelligence tools to predict events related to patients' illnesses. The project is scheduled to last roughly one year.
One of the biggest obstacles NIH aims to address with the platform is the lack of data standards across wearable devices, Volchenboum said. Different devices record information in different ways, which makes it difficult to compare results and create broad metrics for determining whether someone is, for example, sleeping well or active enough throughout the day, he said.
By bringing together all this information into a single spot, Volchenboum said the medical community can eventually establish baseline standards for different devices. Still, "we have a long way to go," he said.
The ultimate goal is to build a system that can monitor patients regardless of the devices they're wearing, Kis said, and as the tech becomes more prevalent, so too will the benefits. With more data to crunch, researchers could correlate risk factors and illnesses, and discover new ways to prevent disease.
"When you have enough data over enough time, there are likely some patterns," Kis said. "We like to say that in 10 years … we'll all be part of an ongoing, eternal clinical trial because we'll be capturing so much data."