Donald Trump Nominated a Man With No Space Experience To Be NASA's Second-in-Command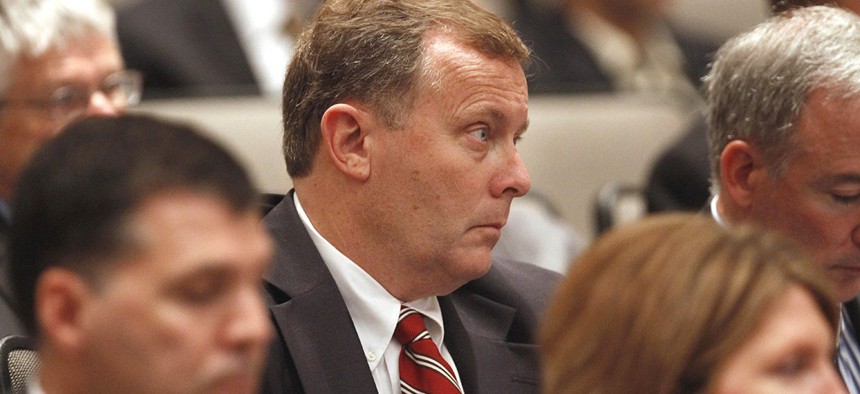 Trump is passing over Dr. Janet Kavandi, an astronaut and respected leader of one of the space agency's research centers.
The White House announced today his intent to nominate James Morhard, a long-time senate aide with no experience in space technology, to be the deputy administrator of NASA.
In doing so, Trump is passing over Dr. Janet Kavandi, an astronaut and respected leader of one of the space agency's research centers. Kavandi was the first choice of NASA administrator Jim Bridenstine, who had called for her appointment publicly.
"This Administration is committed to American leadership in space, and I look forward to working with Mr. Morhard upon his confirmation," Bridenstine said in a statement. Morhard will need to be confirmed by a majority of the senate before he can take up his job.
Quartz first reported that the White House was considering Morhard for the position earlier this week. Several officials familiar with the deliberations were concerned about the message that might be sent by the appointing a man with little experience in space technology after Bridenstine, a former lawmaker, was criticized for his lack of engineering experience.
Morhard, 61, is currently the deputy Senate sergeant at arms, responsible for technology and administration in the offices of 100 senators and 88 committees and subcommittees. Starting off as an accountant at the Pentagon, he began his career as a legislative staffer in 1983, earning an MBA and a law degree along the way. His time in the senate included work on the committee that controlled NASA's budget.
He rose to become the powerful staff director of the Appropriations Committee under the late senator Ted Stevens, and forged close ties with Republican senators. Morhard was a passenger, along with former NASA administrator Sean O'Keefe, in a 2010 plane crash that killed Stevens and four others.
Morhard's background as a Capitol Hill operator, however, doesn't balance well with Bridenstine's similar background as a lawmaker. Previous presidents have sought to combine engineering know-how and political savvy by splitting those responsibilities roughly between the administrator and their deputy.
"Especially when the administrator is a politico like Bridenstine, the deputy should be more of a technical, chief operating officer for the agency," says Phil Larson, a former Obama White House space adviser who is now assistant dean at the University of Colorado, Boulder's engineering school. "It's telling that Bridenstine was openly campaigning for someone with research and operational experience, but unfortunately, like many things this administration does, they appointed a friend of those in power who has no relevant experience."
NASA, alongside operating the International Space Station and numerous space probes exploring the universe, is preparing to return human spaceflight to the United States for the first time since 2011. That will require the agency to sign-off on rockets built by private companies Boeing and SpaceX which will fly astronauts as a commercial service for the first time.