Love Him or Hate Him, Darrell Issa Changed Government Technology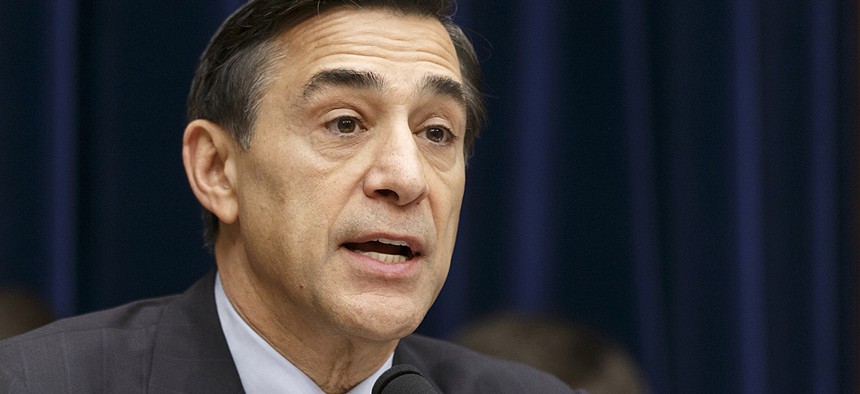 The man behind some of the government's most important tech efforts in recent decades announced his retirement.
California Republican Darrell Issa announced Wednesday he won't run for reelection in 2018 after 18 years in the House of Representatives, four of which he spent chairing the powerful House Oversight and Government Reform Committee.
Issa famously presided over controversial hearings on the U.S. embassy in Benghazi and the IRS' purported targeting of conservative groups, and once told reporters he wanted "seven hearings a week," 40 weeks each year.
Yet many of Issa's most impactful actions occurred in the realm of federal IT reform, where his tech-savvy and willingness to work across the aisle resulted in meaningful policy changes that could be felt across the federal landscape for decades. Two of the most important IT reform efforts of the last 10 years, the Digital Accountability and Transparency Act and the Federal Information Technology Acquisition Reform Act, bear Issa's fingerprints, and he was the first congressman to push for federal chief information officers to have spending authority.
"I think it's easy to look back a few years removed and see Issa's chairmanship of the House Oversight and Government Reform Committee as a watershed moment for the modernization of government technology," said Ali Ahmad, formerly the senior communications adviser for the committee.
"The digital revolution had passed government by because government didn't adapt fast enough from regulatory, administrative or management standpoints," Ahmad said. "Issa's chairmanship was focused on those foundational standpoints, and if you look at the DATA Act and FITARA, they lay the groundwork for agency leaders to move things forward."
In a statement, Issa cited the DATA Act as one of his biggest achievements, calling it the "nation's first open data standards." He didn't champion it by accident. Issa saw granular data—preferably searchable, governmentwide data—as an important oversight tool for determining whether the government was spending taxpayer dollars appropriately.
"You can't fix a problem until you properly quantify a problem," Issa said at a DATA Act-focused event last July.
Issa had a mind for technology, having served as the chief executive officer of Directed Electronics after founding the company in 1982. His experience in the tech industry made him rich—Issa frequently topped the list of the wealthiest members of Congress—but it also gave him a unique perspective among his peers.
"Having been a successful businessman in technology, he brought some depth of knowledge that other members didn't necessarily have and he took that role seriously," said Robert Shea, who worked in the Office of Management and Budget under President George W. Bush and now serves as a principal of Grant Thornton's public sector practice.
Shea said he thought Issa helped generate a larger conversation about tech reform, and the momentum hasn't slowed down. Late last year, President Donald Trump signed the Modernizing Government Technology Act, which allows agencies to stash away savings from modernization efforts and creates a central fund through which they can borrow from. Meanwhile—while implementation is messy—agencies are reporting $3.7 trillion in spending data under the DATA Act.
"I'm sure the epitaph for Rep. Issa's congressional career will focus on his oversight activities, but the contributions he made to oversight and transparency in IT spending can't be overstated," Shea said.
Rep. Gerry Connolly, D-Virginia, said Issa's passion for technology transcended traditional political lines. It bothered Issa that the government didn't do technology well. Each year, agencies spend some $90 billion on IT, but four-fifths of it is on old systems and projects frequently fail.
"I butted heads with Issa on almost every issue you can imagine, but having said that, we were able to find common ground on how the federal government should procure and manage its IT," said Connolly. "The fact that he and I came together on FITARA is a lesson that you can find common ground on issues that matter."
FITARA improved the ability of CIOs to oversee their portfolios and continues to produce meaningful congressional oversight, with quarterly scorecard assessments and hearings before the IT subcommittee. In addition, the government has continued to reduce the number of data centers it maintains and operates.
"Passed in 2014, FITARA was, at the time, the most significant overhaul of federal acquisition and IT management in nearly 20 years," said Alan Chvotkin, executive vice president and counsel for the Professional Services Council, a Virginia-based trade group. "The law ensured that agency CIOs have authority and accountability for IT spending, required consolidation of thousands of federal data centers, and increased transparency into how more than $80 billion is invested each year in IT across the federal government."
Earlier this year, Issa and Connolly reunited to extend some of FITARA's sunsetting provisions—an effort to continue holding agencies accountable for shutting down data centers.
"As these modernization efforts continue being implemented, we can't miss out on potential taxpayer savings by simply allowing agencies to run out the clock until the requirements expire the end of next year," Issa said in a statement.
The FITARA Enhancement Act became law Nov. 21.