GAO Denies Equifax Bid Protest on IRS Contract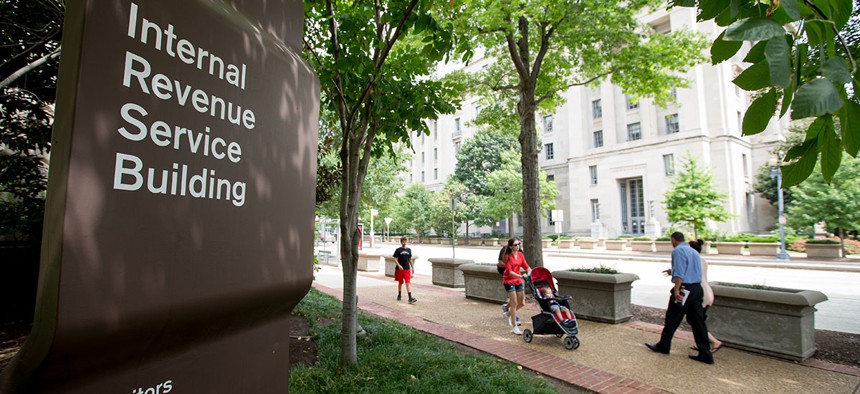 In its ruling, GAO said Equifax' contentions were "unreasonable," allowing IRS to move forward on a contract with Experian.
The Government Accountability Office Monday denied a bid protest embattled consumer credit reporting company Equifax filed with the IRS in July after it lost a taxpayer identification and verification services contract to Experian Information Solutions.  
GAO's decision allows the IRS to begin in earnest working with Experian on a one-year contract worth up to $795,000.
Last week, the IRS told lawmakers the pending protest was the reason it awarded Equifax a $7 million sole-source contract on Sept. 29 to continue providing critical services. The IRS quickly suspended the contract after lawmakers questioned why the agency would award such an important contract to a company that exposed the records of 145 million Americans in the fall.  
In a statement, GAO dismissed Equifax's contention that rival Experian could not meet the technical requirements of a solicitation for a contract it previously held.
» Get the best federal technology news and ideas delivered right to your inbox. Sign up here.
"In its protest, Equifax argued that the approach set out in the Experian quotation (or offer) should have been found unacceptable, because, in Equifax's view, Experian was not able to meet all of the technical requirements of the solicitation. GAO denied Equifax's protest, concluding that the IRS reasonably found that the Experian offer would meet the agency's needs. In essence, GAO's decision concludes that Equifax's contentions were based on an unreasonable interpretation of the solicitation," said Ralph White, managing associate general counsel for procurement law at GAO, in a statement.
White added GAO's decision "addresses only the underlying year-long [blanket purchase agreement] challenged by Equifax on July 7." It does not address the sole-source contract IRS awarded to Equifax and later suspended, he said.
That leaves the IRS with a few options. IRS could begin work with Experian and use Equifax, which held the previous contract, sparingly to assist in data integration. Under the contract, the new vendor will provide services to verify taxpayer identity and assist in identity verifications and validations.
"We're looking forward to the start of the new contract. We will move as quickly as we can, but it will take some time to begin service under the new contract. We are continuing to assess the time frame for the new service. In addition, we continue to review the status of our short-term contract with Equifax, which was temporarily suspended last week," the IRS said in a statement.
GAO's decision was issued under a protective order to give parties time to identify and remove sensitive information that cannot be publicly released. GAO published the public version on its website Tuesday. 
Editor's note: This article was updated Oct. 17 with the GAO's public decision.