Pentagon Tech Chief Says He'll 'Take the Hit' for GAO Criticism of JIE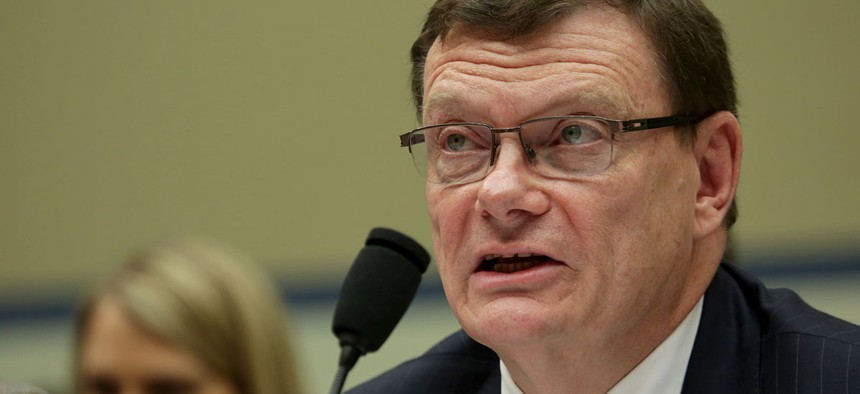 "What we've tried to tell GAO is, in this case, you don't measure JIE—you have to measure the components," Terry Halvorsen said.
Defense Department Chief Information Officer Terry Halvorsen told reporters Tuesday the Government Accountability Office's recent criticism of the Joint Information Environment was partly because there's confusion over what it actually is.
JIE, he said, is a conceptual term used to describe a modernized DOD IT infrastructure—not a single program. Rather, JIE is composed of different programs, like the Joint Regional Security Stacks and Mission Partner Environments.
Halvorsen argued that it makes more sense for GAO to audit those programs because they have friendly measurables—hardware and software, for example—than it does to audit a concept that changes as rapidly as technology does.
» Get the best federal technology news and ideas delivered right to your inbox. Sign up here.
JRSS, for example, aims to consolidate 1,000 legacy network security stacks to 48 standardized stacks at 25 worldwide locations. There are specific metrics to measure there, Halvorsen said.
"What we've tried to tell GAO is, in this case, you don't measure JIE—you have to measure the components," Halvorsen said in a conference discussion with reporters. "This is some education, and I'll take the hit. Obviously, we did not do a good enough job educating GAO about the difference of what JIE is as a concept and what JRSS and MPE are as programs."
In July, GAO dinged the Pentagon for not knowing the cost of adopting JIE, which DOD is expected to spend some $2.5 billion on through fiscal 2021. Last month, GAO revised its earlier report, requesting DOD "fully define JIE's scope and expected cost, and take steps to improve workforce and security planning."
Halvorsen argued if JIE were indeed a single program, "it would fail," and emphasized the importance of treating it as a concept.
"The other thing that's hard for people to grasp if they're not living in the IT cyber-world every day is the rate of change," Halvorsen said. "If we tried to do JIE as a program, it'd be out of date."
Nonetheless, DOD's response in the GAO audit indicates it will take steps to address all GAO's recommendations regarding JIE.