NDAA amendment calls for DOD, DHS to assess cyber threats to border security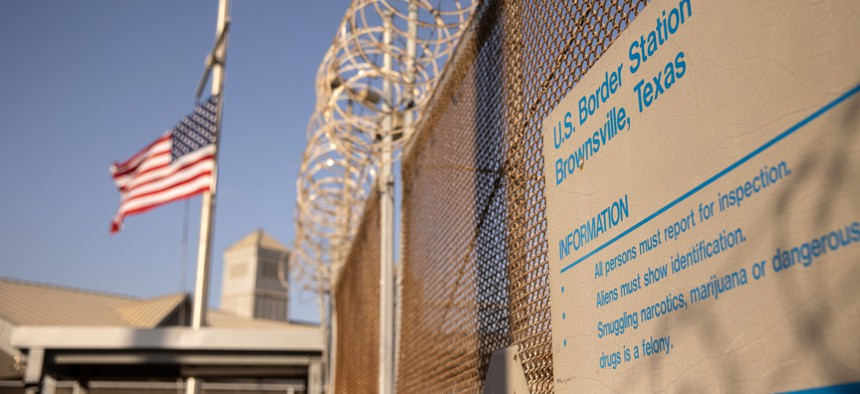 Rep. Vicente Gonzalez, D-Texas, said his proposal "sets a plan to prevent cyber incidents by reducing the risk of future cyber vulnerabilities" in key border technologies.
A House Democrat representing a district along the U.S.-Mexico border has proposed an amendment to the annual defense policy bill that would require key federal agencies to conduct an assessment of cybersecurity threats to technologies, systems and equipment used to safeguard the nation's points of entry. 
The proposal from Rep. Vicente Gonzalez, D-Texas, mandates that the departments of Defense and Homeland Security submit a risk threat assessment to relevant congressional committees outlining their efforts to prevent cyberattacks on tech used by U.S. Customs and Border Protection — or CBP — agents and deployed DOD personnel. 
The assessment would also direct both departments to examine "the cyber-threat landscape" along the U.S. border, including potential risks to CBP's "passenger and cargo screening systems, port screening equipment, forensic data, surveillance technology and technology to scan contraband." 
Upon completion of the assessment, the secretaries of Defense and Homeland Security would be directed to "take timely action" to mitigate any of the identified cyber threats. 
Gonzalez told Nextgov/FCW via email that his proposed amendment to the 2024 National Defense Authorization Act "would ensure that current vulnerabilities are addressed and sets a plan to prevent cyber incidents by reducing the risk of future cyber vulnerabilities."
Gonzalez noted that the Brownsville-Gateway Land Port of Entry — which is located in his district — received funding from the Infrastructure Investment and Jobs Act to modernize its operations, including money to be used for the deployment of technologies "to deter drug trafficking, increase operational security and make trade more efficient." But he said that the new equipment also needs to be protected from more emboldened cyber criminals. 
"We are seeing an increase in sophisticated cyber criminals using cyberattacks to threaten and disrupt port screening equipment, equipment to scan contraband and other surveillance systems that the Department of Homeland Security and active-duty Department of Defense personnel deployed to the United States border depend on to keep Americans safe," Gonzalez said.
CBP's Office of Information and Technology said in its fiscal year 2022 year-in-review report that the agency "has seen the number of cyber attempts grow from 40 [million] per day to nearly 100 [million] per day, a 150% increase over the last two years."
In addition to enhancing the cyber defenses of CBP and DOD technologies used along the nation's border, Gonzalez said the risk assessment would also help support "legitimate trade and travel" between the U.S. and other countries. 
"Tourist and trade data are highly susceptible to cyber threats, and we must do everything we can to protect and preserve the privacy of sensitive information," he added. 
More than 1,400 amendments, including Gonzalez's measure, have been proposed to the must-pass defense bill.