DIU Scaling Up Commercial Cyber Threat Deception Platform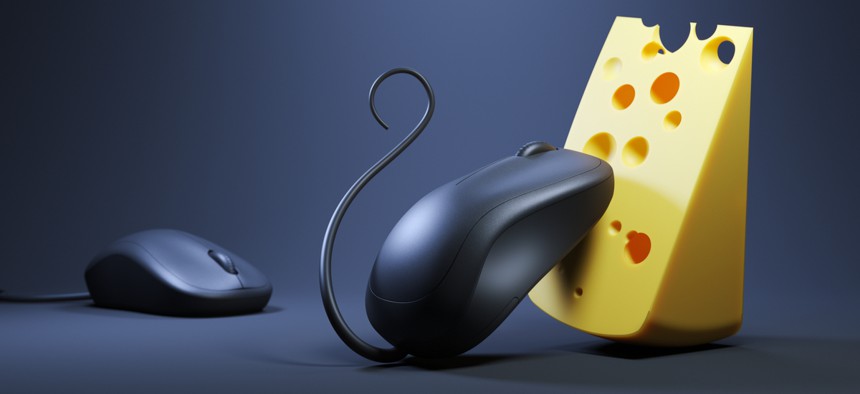 The innovation group extended an other transaction agreement with cybersecurity firm CounterCraft with an eye to moving to a production contract in the coming months.
The Defense Innovation Unit is investing in a cybersecurity platform that not only gathers threat intelligence but uses deception tactics to better understand adversaries seeking to penetrate networks. 
DIU awarded cybersecurity firm CounterCraft, a European startup that recently expanded into the U.S., a prototype other transaction agreement, according to a Monday press release. Though CounterCraft's work with DIU predates the discovery of the massive SolarWinds attack, Dan Brett, one of the company's founders, told Nextgov in a recent interview CounterCraft's platform is built to force adversaries into making the kind of errors that led to the discovery of the SolarWinds hack. 
The compromise of the SolarWinds Orion software was discovered after what Brett called a "mistake" on the part of the attackers, whom the federal government's Cyber Unified Coordination Group said are likely Russian hackers. The incident that eventually led to the discovery of the massive hack campaign affecting multiple federal agencies came when another cybersecurity firm, FireEye, noticed a new device being registered for two-factor authentication. 
"We're going to make it easier for adversaries to make mistakes and get picked up," Brett said. CounterCraft's Cyber Deception Platform exists to force adversaries into making these kinds of mistakes, Brett explained, using fake environments meant to catch would-be attackers. These parallel IT environments then allow CounterCraft to monitor how adversaries behave in order to generate machine-readable threat intelligence to be shared—covertly, so as not to tip off attackers—in real time. 
"Because we've got these threat actors not in a real IT system, they're in something that was deliberately deployed to pick up bad people, we can change that environment without messing up our real systems," Brett said. "And we can basically use that to help control the attack."
In the wake of the hack, federal agencies and contractors may be looking for technology that performs this kind of work to actively pursue threats. A recent white paper from the Cyberspace Solarium Commission called on the Biden-Harris administration to pass policy directives to require defense industrial base companies to participate in DOD threat intelligence sharing programs that would be housed within DOD components and to make threat hunting on DIB networks mandatory as part of DOD contracts. 
The Cybersecurity and Infrastructure Security Agency also recently put out a request for information for solutions capable of supporting the agency's threat hunting efforts. The 2021 National Defense Authorization Act gives CISA the power to deploy threat hunting technology, which includes information collection tools, on federal agency networks and applications without notifying agencies ahead of time.
The prototype agreement from DIU is meant to transition CounterCraft into a production OT by April of this year, according to Brett. Some DOD units are relying on other transaction authority agreements with increasing regularity in order to bypass federal acquisition regulations and speed up technology development timelines. CounterCraft won its original DIU contract in September 2019.
The agreement announced Monday extends the 2019 agreement in order to test new functionalities and expand to more operational units, according to Brett. This includes agencies like U.S. Cyber Command and CISA. CISA and DIU recently signed a memorandum of agreement with DIU to share information and coordinate cybersecurity technology investments. 
"Deception technology and its ability to engage with, learn from, and change the behavior of adversaries enables the DoD to defend forward in cyberspace in defense of the nation," Patrick Gould, the DIU program manager for this effort, told Nextgov in an email.